Even though Core i5 isn't going to launch until late 2009, Intel is already planning on its Westmere-based replacement, codenamed "Clarkdale". Clarkdale will be targeting the same mainstream desktop market, but will include an integrated graphics core, have two or four cores. Like Lynnfield it will use socket LGA1156, and will have dual-channel memory support.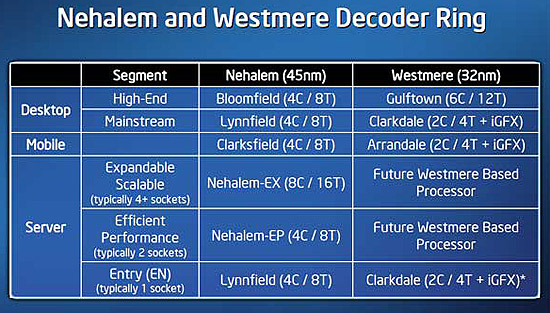 The last product line is aimed at the mobile sector, and will focus on making the Nehalem architecture draw significantly less wattage, lowering its Thermal Design Power (TDP), which is critical for battery life in mobile computing devices like laptops. The mobile-version of the Nehalem architecture is codenamed "Clarksfield", and will be available in mid-2009. Not a whole lot is known about this family of processors yet, except that they will also be quad-core parts. Their 32mm Westmere successors are codenamed Arrandale, and should also be available near the end of 2009.
Say hello to the new Intel 5-series chipsets
Since Westmere integrates a memory controller and a new graphics core into the processor, the new series of mainstream Intel chipsets won't have quite as many jobs to do. The new LGA1156 Intel P55 Express chipsets will replace the current socket LGA775 P45 Express chipset as Intel's mainstream chipset line. The most important change is that there won't be a northbridge and southbridge anymore.
Intel chipsets used to be split into two separate parts, with the northbridge controlling interfacing between the processor, memory and graphics subsystems, while a secondary chip, called the southbridge, is used to control the I/O storage functions of the motherboard. The new Intel 5-series of chipsets no longer have to worry about controlling memory or graphics, so they can integrate storage functionality and interconnects between system peripherals into a single chip.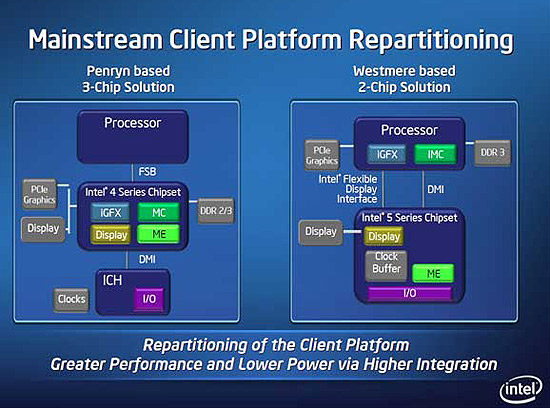 Graphically, the Intel P55 Express is very similar to the P45 Express, in that it will support a single PCI Express 2.0 x16 connection, or dual PCI Express 2.0 x8 connections. While CrossfireX support with multiple AMD videocards is promised, it's still unknown if NVIDIA will allows SLI support to be added to the Intel P55 chipset. The Intel P55 Express chipset is due out at the same time as the Core i5 processor, likely midway through 2009.
If you're a little overwhelmed by Intel's upcoming lineup of processors, don't worry, you're not alone. While the Core 2 line of processors are still on the market and the Core i7's are still reserved for the most extreme of enthusiasts, Intel will be introducing no less than five different lines of consumer-level processors in the next twelve months. The tick-tock strategy is in full-effect, and Intel is deploying their chips right on schedule.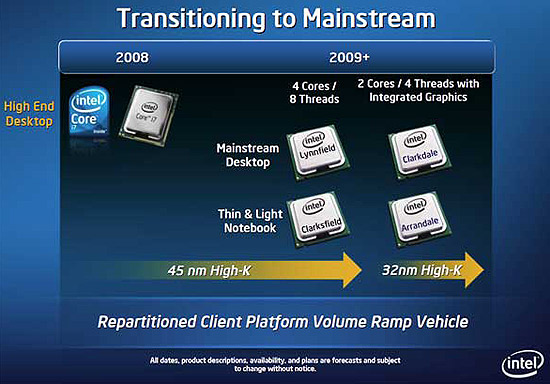 Don't let the armada of future processors scare you too much though – Intel has taken steps to make sure upgrading isn't oo painful for this latest round of processors. The fastest Nehalem processors have already launched, so if you"ve bought into Core i7 and socket LGA1366, you already have quite a bit of future-proofing protection. The next generation "Gulftown" processors will be an easy upgrade, and take advantage of the triple-channel memory and Intel X58 Express chipset motherboards that are already in your new system.
For those still holding on to their "Conroe" parts, the upgrade path is a little murkier. For mainstream users Core i5 could deliver more than enough performance for everyday computing and video gaming, but the Intel P55 Express chipset won't have as much bandwidth for future videocards. The release date for Core i5 parts is also still unclear, especially if 45nm "lynnfield" Core i5 processors are eclipsed by 32mm Clarkdale processors just a few months later.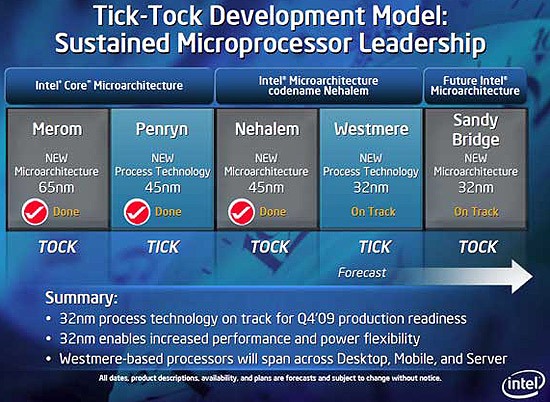 Finally, it will be interesting to see how integrating a graphics core into the processor will impact third-party chipset manufacturers like AMD and NVIDIA. NVIDIA's chipsets have long held a performance lead over Intel's IGP performance, but only time will tell if Intel will be able to muscle them out of the chipset business altogether by removing the need for NVIDIA IGP chipsets, and including native SLI support on Intel chipsets. If that does become the case Intel will be the only major developer and manufacturer of chipsets for Intel processors.

Feedback?
What did you think of this article? Help make PCSTATS better, leave your feedback here.

As always, the best advice is to wait as long as possible before buying. Sure, waiting and watching doesn't give the same satisfaction as impulse buying, but with Intel planning new architectures every few years, buying into new processors, chipsets and memory modules at an inflated price-premium is something that only the very richest can afford to do. For most novices, mainstream users and even gamers, the benefit of having the fastest possible CPU doesn't mean what it once used to. Very few of today's applications and games take advantage of the capabilities of these new processors, and tomorrow's applications can wait a day or two for all of these new processors to come down in price.

Find out about this and many other reviews by joining the Weekly PCstats.com Newsletter today! Catch all of PCSTATS latest reviews right here.

Related Articles
Here are a few other articles that you might enjoy as well...
- Intel Core 2 Duo E6750 2.66 GHz 1333MHz FSB Processor Review
- Intel Core 2 Duo E6600 2.4GHz Processor Review
- AMD Athlon64 X2 4800+ 65nm Processor Review
- Intel Pentium M 740 1.73GHz socket 479 Processor Review
- AMD Sempron 3600+ 2.0GHz Socket AM2 Processor Review
- Intel Pentium D 940 3.2GHz Dual Core Processor Review