In 2006 Intel introduced its tick-tock schedule for microprocessor development. The "tick" part of the development cycle refers to a shrink in fabrication process, taking an existing processor architecture and making it smaller, so it consumes less heat, draws less power, and can be clocked to higher speeds. The 'tock" that follows after uses that same miniaturized fabrication process and introduces a new architecture, which can have larger cache sizes, new instruction sets, and more cores.

This current strategy has not only been responsible for Intel's recent advances in processors, like the Core i7 processor (codename: "Bloomfield"), it's also helped Intel get its new processors out the door in a much more timely fashion. It was a dramatic change from Intel's previous strategy of simply pumping up the clockspeed of existing processors, yielding diminishing performance increases while drawing exponentially more power and generating more heat. Intel's new tick-tock strategy focuses on power efficiency.

In order to make this fabrication shrink happen on schedule Intel has invested seven billion US dollars to re-tool its fabrication plants in Oregon, Arizona and New Mexico for creation of 32nm processors.

The "Westmere" Processor Architecture

Westmere comes in on the "tick" part of Intel's development cycle, meaning it's a shrink of fabrication process for an existing architecture. In this case Westmere will be taking Intel's Nehalem architecture and shrinking it from a 45nm to a 32nm process. This will also allow Intel to push clock speeds further, in much the same way taking the Core 2 Duo architecture (codename: "Conroe") and shrinking it to 45nm (codename: Penryn) yielded faster processor speeds.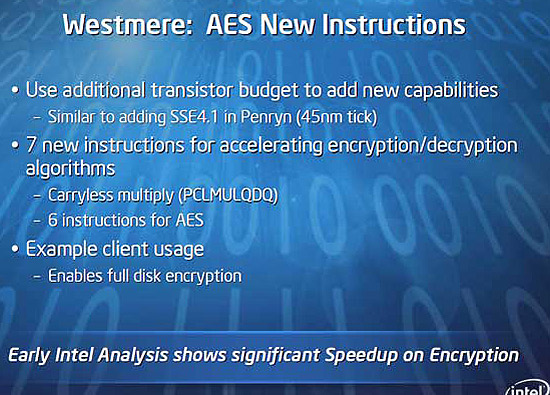 Of course, that's not all there is to Westmere – Intel has also introduced seven new instructions for the smaller processors that focus primarily on improving their encryption capabilities. Westmere-based chips should be fast enough to allow full-disk encryption, an important step in establishing secure computing.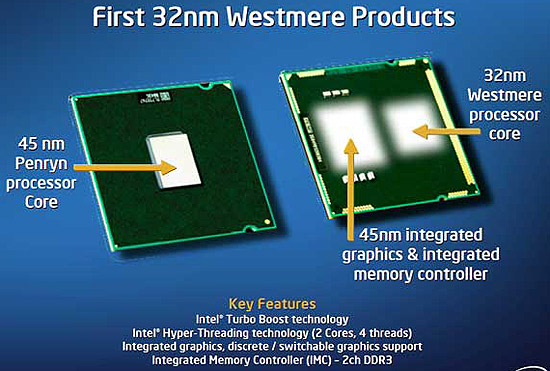 Intel's also going to start packaging an integrated graphics processor core into certain Westmere processors. These integrated graphics cores will be produced on a 45nm process while the rest of the processor is manufactured at 32nm. Having an integrated graphics unit built in to the processor means that the IGP can share some of the cache that power the general purpose cores of the CPU. It will also remove some of the workload that was typically done by the motherboard's northbridge controller.
Moving the IGP directly onto the CPU should reduce some of the latency that slows down current integrated graphics chipsets. However overall latency decreases likely won't be dramatic enough to make Westmere integrated graphics cores competitive with discrete graphics cards, especially given that Intel has said they're going to re-use one of their older integrated graphics processor cores for use in Westmere.
Introducing the 32nm Processor
To understand the Westmere lineup, we must look back to the first part of the Nehalem launch, the Intel Core i7 processor (codename: "Bloomfield"), which is aimed at the high-end and extreme desktop user. The "Bloomfield" Core i7 processor is built on a 45nm process, has four to eight cores, and is built for the Intel X58 Express chipset and socket LGA1366. The 32nm Westmere-based successor to Core i7 will be codenamed "Gulftown".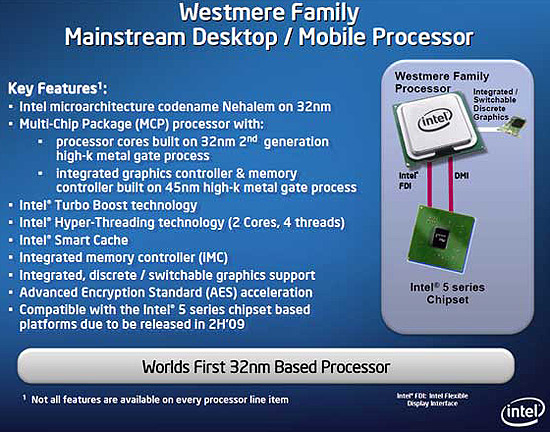 This new 32nm processor will have six cores, a 12MB L3 Cache, and share the same X58 chipset and 1366-pin socket. Being an enthusiast-class, high-performance part, Gulftown processors won't have an integrated graphics core, instead requiring a dedicated graphics card to power their display output.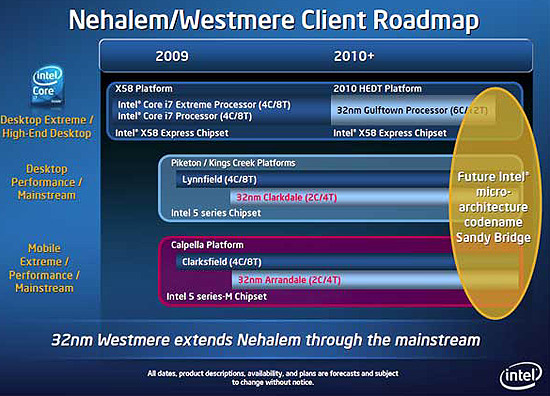 The next part of the Nehalem family is the Core i5 processor (codename: "Lynnfield"). These processors can be thought of as the little brother of the Core i7, and will generally be made more affordable for the mainstream computer market. Unlike the Core i7's triple-channel memory, the Core i5 will use dual-channel DDR3 memory, and use socket LGA1156.
The initial Core i5 "Lynnfield" processor will be a quad-core part, built on a 45nm process.