Nuances are those little things that demonstrate the designers put some though into how we, the common user will interact with the case. In its defense, the HX45 has been well thought out in this aspect. A handle is integrated at the very top of the frame, and all corners have been folded over so they are not hazardous to wandering fingers.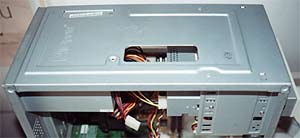 Strangely some cases make it almost impossible to actually turn them on, or more frequently, use the reset switch. We're glad to see Aopen doesn't follow that trend. In fact even a small bit of material has been removed by the Slot cards to make installing those screws all that much easier.
The pleasure of a decent grade of galvanized sheet steel can't be explained until one has come in contact with a frame a pop can would put to shame. The HX45 uses a good thick gauge of metal to build a sturdy product that can easily be sat on for example.
Conclusion
So what does all this add up to? I would say this is a good case for someone who will never open their computer. It is well built, but lacks the stuff necessary to be a good choice for an overclocking case (ie. ease of access everywhere and super-good venting). In one sentence, well built but without enough features. Too bad, being related to the HX08 leads to better expectations.