Aopen HX45 Case Review
---
Cases are among the most under appreciated bit of hardware which go into completing today's computer systems. While it is true that the electrical side of things is paramount to the quick and reliable operation of a computer, the case does have it place. What then does a good or bad case contribute?

In one sentence; cooling, protection, sound dampening, and upgradability. A good case will out live the components it is meant to house. After all, that $400 video card will be old-hat in another six months - sorry to burst that bubble.

Anyhow, knowing which case is good, and which one isn't is something that comes from being exposed to more then one type. As we move on to exploring the nifty features of this particular case, you'll see what we mean...

Aopen has faired well in the making of its cases, and the HX45 at first appears to be a promising addition to the line which includes the HX08.
(3) 5.25" drives
(3) 3.5" drives
(1) 80mm fan
allows (2) FDD
250Watt PSU
power/reset switches
ATX 2.01
(7) slot positions
Integrated carry handle
Cooling
Cooling in the HX45 is a standard affair. Assuming an 80mm intake fan has been installed, cool air can be sucked in at the front of the case. Unfortunately there are no filters of any kind, so dust will be fed towards the slot cards with the best efficiency possible. Which won't be much because the fan pulls its air through a pittance of punched metal and through a slot at the very bottom of the bezel. The front bezel has no venting of any kind. Therefore cooling is only mediocre.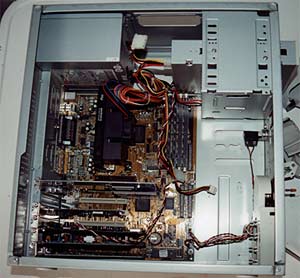 Once inside the air is expelled by the PSU at the very top of the case. Hot air rises and so the PSU expels it, as opposed to letting it pool at the very top and raise overall case temperature. This design seems to work fairly well in the HX45.
A small range of perforated metal venting above all the slot cards adds an extra means for convection to occur as does a wide row of perforation on the bottom edge of the case cover.