The 170MP breaks new ground on several fronts, not the least of which are its' looks. Rather that continue with the oh-so -boring beige look that has remained the standard in the computer industry for such a long time, the Syncmaster uses a two-tone, silver and navy-blue casing. The over all effect is quite cool, and makes the display look much more refined on the desk or hanging from a wall than a beige box ever could.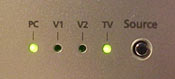 On top of this evolving standard (many of Samsung's newest displays appear to be following this design standard) the 170MP also employs some fairly high-tech buttons. Yes buttons.
The power on/off switch is back-lit green or orange depending on the status of the display, and the rest of the control buttons on the front panel are touch sensitive. That means each of the eight control buttons will only respond to direct contact with a finger. The buttons are metallic and appear to rely on the electrical signal from your body to be activated. Aside from the techno-savy aspect that has, the advanced buttons remove any issues associated with accidental adjustment if the display is being wiped down for example.
Four status LED's let you know what signal the display is set for - in the above example the display is set for picture in picture with the computer as the main signal, and the TV as secondary. The 170MP can switch between PC, V1 (S-Video), V2 (RCA), and Cable (TV) inputs.
Adjusting the display itself
The range of adjustments for the panel are a bit limited seeing as the display will only tilt back 15 degrees from the perpendicular. There is no need for an integrated lazy-susan as the panel doesn't weight all that much - so side to side movements mean rotating the entire display assembly.
Unlike many other flat-panel displays, the base is fully integrated with the display on the 170MP. Just below the main panel are a set of small stereo speakers. The speakers are mainly used when the display is acting as a TV, but they can be hooked up to a computer audio-output quite easily. The sound quality is what you might expect from a pair of speakers of only a few inches in diameter - decent in sound, but low in terms of bass.