Samsung 170MP 17" TFT Display-TV Review
---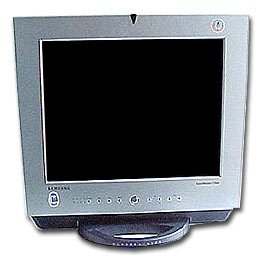 With the continuing trend in convergence, it was only a matter of time before the venerable television was combined with the cutting-edge technology of flat panel TFT computer display to form a hybrid multipurpose Display-TV. This is the case with the Samsung 170MP, a unique 17" TFT offering that boasts the first integration of a TV-tuner within the display itself.

True to form, the display is so versatile that it not only connects up to the computer via an analog 15-pin cable, but can also be hooked up to RCA cables from a VCR, Super-Video from a DVD player, or even a plain old cable from your local cable provider. Each of these four connections represents a separate 'channel' for the 170MP display - denoted by either PC, V1, V2, or TV. Wow.

In the world of flat screen displays there is scant room for competition. With the 170MP, Samsung have gone after the competition all guns blazing. Not only is the display feature packed, but it has also broken the mold for what a flat panel is supposed to look like. The simple stand mechanism folds away allowing the entire silver and navy blue unit to be mounted to a wall bracket for zero-footprint applications. If it isn't already obvious, we were really impressed with the 170MP right out of the box!
Samsung SyncMaster 170MP Display:

17" Diagonal Viewable Size (a-si TFT active matrix display)
Dot pitch of 0.264mm (Horizontal/Vertical)
Contrast Ratio: 220:1
Luminance: 170cd/m2
Viewing Angles: 80/80/80/80 (up/down/left/right)
75 Hz Refresh Rate, consumes 52Watts power (max)
1280x1024 pixel resolution, analog connection
Monitor Dimensions: 17.6" x 17.2" x 2.5"
Weighs approx. 14.3lbs
External universal power supply (100-240 Volt AC)
Comes with: Remote, batteries, PAL-NTSC connector, Stereo RCA cable, Stereo-stereo cable, RCA cable, s-VHS cable, CD-ROM, 6 foot power cord, 15-pin D-sub analog video cable, manual, AC-adaptor.
Manufacturer: Samsung
Cost: ~$1500USD

Available from: buy.com
Tucked below the main silver bezel are two small speakers that complete fully, the stand alone nature of this Display-TV. While the sound quality of the two small speakers is what you might expect from an speaker only a few inches across, they still manage to put out a fair bit of power. Realistically though, the sound is best when it is not pumped up more than 1/3 on the dial.
Audio can be fed into the display from the computer, from the cable-TV connection, or from a device like a VCR (left and right RCA channels). Additionally, audio from the TV can be brought out of the display to a secondary device, or a pair of headphones can be hooked up for some late-night Infomercial viewing. Personal fav; the one where they freeze the engine with dry ice - and it still starts! Amazing, and only $9.95 for.....

Compared to most displays the rear of the 170MP is just packed to the gills with media connections. More on this in a moment, first the formal specs for the SyncMaster 170MP.