Burn tests and Conclusions
Nero's CD Speed burn tests are done twice, once with a CDR rated to 1x-24x burn speed, and a CD-RW rated to 4x-10x. Each disk was test with files of about 640MB in size.
| | |
| --- | --- |
| CDR Burn Tests | CD-RW Burn Tests |
| | |
Burn Testing - CDSpeed Write Tests Results
Optical Drive

SW-224

Disk Media
CD-R
CDRW
Media Write Speed:
24X
10X
Avg Speed:
22.63x
10.01x
Start Speed:
16.02x
10.01x
End Speed:
24.03x
10.01x
Type:
Z-CLV
CLV
With the CD-R media in the SW-224 the burn speeds were tested and came quite close to the 24X write speed it should have ben capable of. At an average speed of 22.6x, the SW-224 came very close to matching its listed speed across the entire disk. Please note the top left picture where you can see that the SW-224 sat at 24X for most of the disk, so it did meet its advertised requirements.
On the CD-RW front, the Samsung SW-224 was listed as a 10x Re-Writeable drive, and here we can see the drive held steady at exactly 10.01x throughout the entire disk, making it one fast CDR/CD-RW drive.
With the proprietory Superlink under the hood to control buffer underrun error and the bundling with Roxio's Easy CD Creator 5, the SW-224 comes well equipped. With a retail price of about $80USD, Samsung certainly have the economics on their side, making the SW-224 an easily recommendable 24x-10x-40x CDR/CD-RW Burner.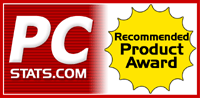 Full SW-224 Drive Specs

Data Transfer Rate
Record: 24X (3,600 KB/sec)
Rewrite: 10X (1,500 KB/sec)
Read: 40X (6,000KB/sec)
Burst Transfer Rate
PIO Mode 4 (16.6 MB/sec)
DMA Mode 2 (16.6 MB/sec)
Recording Capacity
CD-RW Disc 700/650MB (type 80/74)
CD-R disc 800/700/650/550MB (Type 90/80/74/63)
Interface
EIDE/ATAPI
Buffer Memory
2MB
Flash Memory
512KB
Drive Mounting
Horizontal/Vertical
Supported Disc
CD-R,CD-RW,CD-DA, CD-ROM/XA,CD-ROM
Video-CD, CD-I, Photo CD,CD-Extra,CD-TEXT
Audio
S/N Ratio >75dB
Channel Separation >65dB
Writing Method
DAO(Disc At Once), TAO(Track At Once)
SAO(Session At Once), Packet Writing
(Variable, Fixed Packet)
Physical Specification
Dimensions (WxHxD mm) : 148.2 x 42 x 184
Weight (kg) : 0.77
SEARCH PCSTATS

---

Use the power of Google to search all of PCSTATS and the PCSTATS Forums. Tell us what you think of this new feature - FEEDBACK?