FIC AN11 Stealth Socket A Motherboard Review
---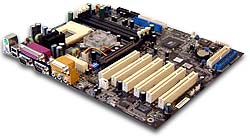 First International Computer (FIC) have been producing some pretty good Socket A solutions for a while now and this has helped them improve their penetration into North American retail markets. The company, which was founded in 1980 is better known in Asia where consumers are motivated by value pricing, and in Europe where their Thin Client computers are more well known. Most North Americans know FIC as a manufacturer of mainboards, but the company also produces webpads, thin clients, notebooks, and barebones systems.
While you may not be immediately familiar with the link between FIC and VIA, it is interesting to know that the two companies are joined a the hip so to speak as members of the same family own both companies. FIC's biggest markets are reportedly with system integrators, but we also know their mainboards speak to the value use. With a price tag of just under $100USD the FIC AN11 Stealth comes with a very good set of features, and a very cool all black PCB.
The AN11 Stealth is powered by VIA's much loved KT266A chipset, which practically guarantees that the board is going to be a great performer. What FIC have done to make the Stealth stand out is equip it with 4X AGP, five 32bit PCI's, ACR, onboard audio and IDE RAID. Drop in an AthlonXP, three sticks of DDRAM and you've got the basis of a great system.
FIC AN11 Stealth Motherboard

Ships with the following kit:

2x IDE ATA66/100 Cable
FDD Cable
USB Riser
Driver CD
Bundled software: Norton Antivirus/Firewall/Ghost
User Manual
First impressions of the Stealth
The black PCB was a rather nice move from the usual green or brown colour most motherboards natively come with. Since VIA's KT266A chipset is known to get quite warm during extended use, FIC have chosen an active cooler with a nifty translucent fan (right away I'm thinking blue LED mod here folks).
The ACR slot is well positioned to give you an extra 20mm of space in front of the AGP card so it won't cost you an entire PCI slot if you decide to mod your graphics card with an extra large cooler. Even if you are not going the mod route, and most of us won't be, the extra space is always a plus in terms of air flow and cooling for those precious and very expensive video cards we all crave.
MOSFET's use heatsinks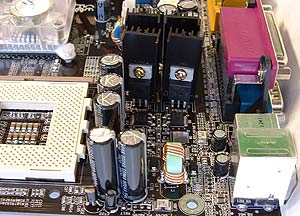 I was very pleased to see that the MOSFETS on the AN11 Stealth are cooled by heatsinks rather then by just using the PCB as a large heatspreading device. Since they are use for the processors power supply, and do get very hot during use, it's nice to see that FIC has done what they can to ensure your CPU will get a clean and stable supply of electricity. The heatsinks are even attached directly to the PCB instead of just remaining free standing which is another good detail.
Luckily we didn't need to use the clear CMOS jumper once during testing however it's nice to see it located right next to the CMOS battery where it is easy to reach.
The floppy drive and IDE harddrive connectors are in the perfect location, right next to the DIMM slots so they don't get in the way of expansion card. The onboard IDE RAID connectors are at the bottom of the motherboard and positioned so as to cause the least amount of interference to that slot. Ultra/100 IDE RAID comes care of the Promise 20265R chipset, which can support both RAID's 0 and 1.
RAID 0 is not really considered a true RAID since there isn't any data redundancy. RAID 0 takes two drives of the same size/configuration and stripes them, meaning it makes one big drive out of two equal ones. This improves performance by cutting hard drive latency in half. Since the data is divided equally and written on two hard drives it also increases the data bandwidth by two. The reason it's not considered true RAID is because if one drive fails, all data is lost.
RAID 1 on the other hand mirrors two drives of the same size, so in theory if one drive fails, the other will take over as the primary hard drive and the system can continue to operate normally. This is what is supposed to happen with a SCSI hard drive setup and it actually works pretty well there.
The IDE subsystem doesn't allow hard drives to be disconnected while the computer is still powered up and in use like SCSI can unless you have a special HDD tray. Generally, when one IDE drive fails the system usually locks up anyway. The data is safe since it's mirrored on the other drive which is the real benefit.
Up next, a new feature for PCStats motherboard reviews, Heatsink Clearance Measurements around the socket!