AOpen AX45-V SiS 645 Socket 478 Motherboard Review
---
AOpen is better known around here for their 56k modems and elegant cases, but on the web we all know them for their motherboards, and sometimes even their videocards. In this review of a SiS 645 based Intel Pentium 4 Socket 478 motherboard, we will be examining the AOpen AX45-V, and its sexy black PCB. As we have already been extremely impressed with Epox's 4SDA+ which also uses the SiS 645 chipset, I would expect so see equally good performance from this AOpen motherboard as well.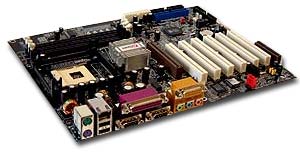 With a retail price of around $150 CDN, the AOpen AX45-V is cheaper then most SDR based Pentium 4 boards out there in the market, and it performs a lot better too! Sporting the SiS 645 chipset the AX45-V has support for 400 MHz based Pentium 4's which drop into the Socket m478 from 1.5 GHz-2.2 GHz+. The SiS645 chipset, unlike current Intel chipsets has support for older 3.3V AGP videocards (1x or 2x) which is nice as it doesn't force people to upgrade their videocard when they get a new motherboard.
With three DIMM slots, the AX45-V allows users to put up to 3 GB PC1600/2100/2700 DDR RAM in the motherboard. The AX45-V also has onboard LAN (a really great feature in my mind) and onboard audio. Despite all the onboard components, it was nice to see that the board also had six PCI slots which allows for lots of expansion.
Aopen AX45-V Motherboard

Ships with the following:

IDE ATA66/100 Cable
IDE ATA33 Cable
FDD Cable
Driver CD
USB Bracket
User Manual

It seems that AOpen has adopted a black PCB for all their new motherboards and I must say it looks quite nice. The placement of the ATX power connector was in a very unusual location, usually it's closer to the MOSFETS which would provide cleaner stronger signals to the power regulators however I'm no electrical engineer so what do I know really?
The onboard LAN makes use of the a Realtek RLT8100 chipset. While the Realtek doesn't support Wake on LAN (WoL) there is a header for that if you needed it. With three fan headers and two free once the CPU heatsink/fan is installed, the AX45-V gives users a few more options should they want to use case fans with RPM monitoring.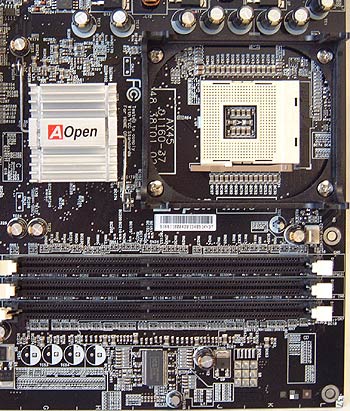 Since all FDD drive connector and IDE connectors are near the bottom of the board, it may be difficult for owners of full tower ATX cases to get long enough cables in some cases. Onboard audio is taken care of by VIA's AC'97 codec, no you're not going to hear me rant and rave about how bad this codec is anymore. I've given up since manufacturers don't seem to listen. At least the AX45-V has six PCI's so adding a hardware based sound card isn't too hard.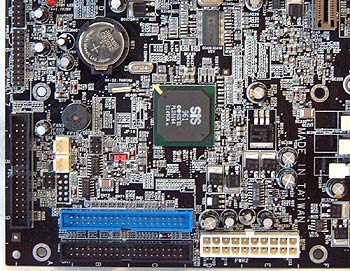 We were very impressed by the overall quality of the AX45-V motherboard - AOpen has historically taken the extra step for it's customers and the heatsink retention mechanism is just one sign of this.
On the flip side of the motherboard there is a extra piece of plastic that stretches over all the back of the CPU socket ensuring that the retention mechanism will never fall off during transportation. It also stops the motherboard from bending after the heatsink is installed. Definitely a good idea, and something a few more manufacturers should follow suit with.
We were happy to see that the clear CMOS jumper was easily accessible, even though we didn't need to use it once during our tests. Even though the SiS 961 Southbridge chipset supports 6 USB 1.1 ports the board didn't come with any extra USB brackets to take advantage of the headers on the motherboard.
The Chipset: SiS 645
SiS 645
Northbridge
SiS 961
Southbridge
The SiS 645 Northbridge supports any 400 MHz based Pentium 4 CPU from 1.3 GHz to the Northwood 2.2 GHz P4. It has support for up to 3 GB of non-ECC PC1600/2100/2700 DDR RAM. The Northbridge can also communicate with videocards at up to a 4x transfer rate (4x AGP).
The SiS 961 Southbridge is a little dated relatively. HDD support maxes out at Ultra/100 even though Ultra/133 has been out for a little while now. It's not really that bad for SiS though since Ultra/133 is really only a catch phrase. There is almost no performance difference between Ultra/133 and Ultra/100. The chipset has support for 6 USB 1.1 ports but no support for USB 2.0.
This is a shame because USB 2.0 is starting to catch on now and the sooner chipset makers support it, the faster the peripherals will come out for it en mass.