| | |
| --- | --- |
| Samsung Tantus HCL473W 47" Rear Projection HDTV | |
---
Remember when you were a kid and all fun you had playing around with discarded refrigerator boxes? Well, the Samsung HCL473W certainly comes in a huge box that will make an excellent fort for the kiddies, but this time, what's inside is much more exciting than corrugated cardboard ever was - a 47" rear projection HDTV capable of 1080i/480p!
Pipe in component output from a trusty Progressive Scan DVD player to this bad boy and movie nights will have a whole new meaning. Or if you're like us and X-Box does it for you, try playing a few rounds of multi player Halo on this $2,150 USD 47" wide screen HDTV. With a 16.9 aspect ratio, letter box films fill the screen in full glory, and two player split screen games like the oh-so-addictive Halo are really in their element.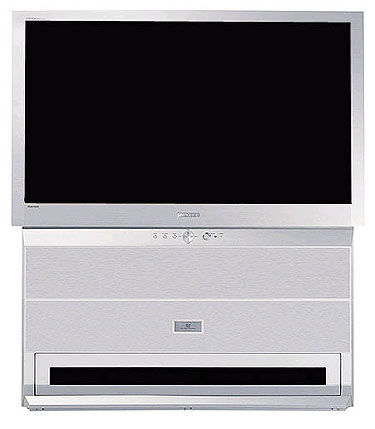 Silver HCL473W model shown above.
Samsung make the HCL473W for the home theatre crowd and there are more than a few touches which make it very easy to live with.
For instance there is an integrated console deck underfoot, enabling the HCL473W to easily store a DVD player, VCR, a handful of remotes and a few DVD's within itself.
The console deck is shielded with a fold down door to keep dust at bay, and a window lets those Infrared signals pass right to the equipment behind.
Features & Specs
Samsung HCL473W:
Released under the Tantus home theatre brand, the HCL473W is a high end rear projection HDTV.
Features:
Auto Convergence Adjustment
- Auto Perfect Focus: Auto Convergence
- Multi Digital Convergence
(Manual Adjustment)
Realflect System
- Bright Focus CRT
- New HD Lens
- HD Fine Pitch Screen
(0.52mm)
Anti Glare Protection Screen
First Surface Mirror
Dolby Prologic Sound
2T PiP & Double Screen
Color Temperature control : Cool /Normal/ Warm
Auto Volume Leveler
Center Speaker
Integrated Cabinet
Technical Specs:
47" Screen
7" R/G/B CRT's
1080i /480p DTV
16:9 Aspect Ratio
3D Y/C Comb Filter
1000 Lines Resolution
15W, 3 Channel Audio
Dimensions:
44.6"x52.2"x23.1"
(w x h x d)
Weight:
167.5 Lbs
Approximate Price:
$2150.00 USD



Remote:

Large openings at the rear make it easy to thread out cables but the deck opening is only large enough to accept devices 11.7cm tall. Measure first, or risk scratching those expensive components!
Media Inputs
With HDTV slated to be become the de facto standard in the next year to two, any large screen display should come with support for Component Input.
Unlike regular RCA video cables, Component Input cables separate the video signal into three separate colours (Red, Green and Blue) which result in richer tones (colour saturation) than if they are simply sent as one signal.
Be wary of how much you pay for your own set of component input cables however because the HCL473W does not ship with any. Most retailers will try to make a hefty markup on the cables which tend to sell between $35 and $60 each.
Usually, the flashier, and more gold plated the cables are, the more you will be paying. Whatever you decide to pay, just ensure that all three cables are joined in one strip, and that each wire is well shielded. The three individual wires should be at least 6mm in diameter and have "component" labeled on the side of the cable. Older RCA cable (L/R Audio and Video) sets are not shielded properly to deliver the same kind of picture signal, and should not be used.
In addition to the inputs on the rear of the display there is a set of side panel jacks which are easier to get at, and make connecting a camcorder, or other local device much less of a hassle. Hidden under a small side flat are RCA jacks for video, left/right audio, and an SVidio input.
Rear Panel Jacks
Side Panel Jacks

Antenna Terminals: Two independent antenna signals can be connected, and the signal from one can be sent out to another component with the third antenna out jack. Also shown are a single SVideo input, two pairs of RCA Video Left/Right Audio inputs and one set of RCA Video Left/Right Audio outputs. On the Component Input front there are two sets of jacks for Y/Pb/Pr and Left/Right Audio. The first set is for 480i/480p and the second for 480p/1080i.

480i, 480p: Connects to a source with Y, Pb, Pr signals like a DVD player.
480p, 1080i: Connects to a source such as DTV (Digital TV) with Y, Pb, Pr signals.

The last set of RCA jacks on the rear of the unit are for surround sound speakers (center, surround left, surround right). On the side panel there a set of RCA Video Left/Right audio jacks, a SVideo input, and a "perfect focus" button.
The Remote Control
With high end consumer electronics the quality of the remote is more than just a passing observation. Good remotes are the interface of importance, and a poorly designed interface may affect how well you enjoy a TV, DVD player or stereo. The HCL473W comes with a rather standard Samsung styled remote with a small joystick for DVD and menu navigation. The remote also supports several 'universal remote' options.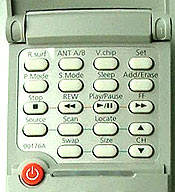 The remote is laid out well and most buttons are intuitive and easy to reach. There are codes for each particular manufacturer in the back of the HCL473W guide book if you want to enable the universal feature, but lacking any devices to test this on we can't really say how well the universal remote option works.
In most cases only the most basic of functions are supported by standard universal remotes, but if you were using an entire set up of Samsung DVD players, VCR's and the like things could work out very well.
In general I think Samsung could improve on the remote quality as the joystick feels a bit rough, and none of the buttons are back lit. The mode switch uses four separate LED colours to identify which setting the remote is on (TV, VCR, Cable, DVD) but otherwise the remote is unlit. A small flap hides an assortment of other control buttons for the VCR and TV functions.
Up next, giving the speakers a little run through at maximum volume...