DDRAM, what's the beef with PC1600 to PC3000?
---
Often times working for a hardware site, I get many e-mails from our readers that ask for advice. Now and then, people ask how to make their systems faster, however more often people ask what they should buy.
A lot of times, when it comes to memory, people always ask "is PC2400/PC2700/PC3000 really that much faster then PC2100?" and my usual reply is "If you're into overclocking, then yes the higher rated RAM allows you to run your FSB higher should your other system components allow it." Many times the person's rebuttal is, "Oh, I don't plan to overclock though."
While I love getting e-mails from our readers, I sometimes don't have time to answer all of the questions I receive. Hopefully this article should answer many of the questions a lot of people have when faced with buying new memory for their computer.
Today we're going to test several sticks of DDR RAM that is readily available on the market. The sticks include Crucial PC2100, Micron PC2100, Mushkin Enhance PC2100, Corsair XMS2400, KingMAX PC2700 and OCZ PC3000. All of the modules are 256MB in size and all will be running at 133 MHz (one stick will also run at 100 MHz to give a comparison of PC1600).
We tuned the BIOS to the most aggressive settings on our reference Epox 8KHA+ (KT266A) motherboard and set to work. The memory settings by the way are 2-2-5-2-8-4-1 with all DRAM performance enhancing options enabled. Those numbers represent; CAS Lantency-DRAM Precharge to ACT-ACT to Precharge-ACT to CMD-Burst Length-DRAM Queue depth-DRAM CMD Rate.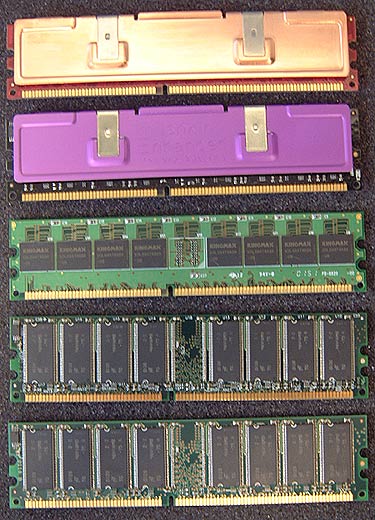 Remember, all benchmarks are going to be run at the stock speed of the motherboard.
The Crucial PC2100 DDR will also be run at PC1600 speeds to give a comparison of PC1600 performance.
SYSmark2001 uses real world applications concurrently as an accurate way to test the system by following patterns that reflect the way real users work. SYSmark2001's workloads accurately represent today's updated business usage model. The benchmark runs at a realistic execution speed, with think times between application interactions, in order to emulate a desktop user's interaction with the operating system and applications. Higher numbers denote better performance.
BapCo SysMark 2001 Benchmark Results
Internet Content (FSB/Memory)
Sysmarks
Ranking
1.
256MB Crucial PC1600
191
2
256MB Crucial PC2100
202
3.
256MB Mushkin Enhanced PC2100
201
4.
256MB Corsair XMS2400
202
5.
256MB KingMAX PC2700
203
6.
256MB OCZ PC3000
202

Office Productivity (FSB/Memory)

1
256MB Crucial PC1600
158
2.
256MB Crucial PC2100
171
3.
256MB Mushkin Enhanced PC2100
171
4.
256MB Corsair XMS2400
171
5.
256MB KingMAX PC2700
170
6.
256MB OCZ PC3000
171
It shouldn't be a surprise that the only stick of ram that lags behind is the Crucial PC1600 DDR. With all the other memory running at PC2100 speeds, they all perform the same because they all have the same memory timings.