NoiseControl Novibes III HDD Isolation
---
Noisecontrol have made it their business to make your computer dead, dead silent!
In the old days hard drives used to be a big source of vibration and mechanical noise. The spindle and the read/write heads would often sound like they were grinding away like sandpaper on wood. Things have changed remarkably in just the last few years, but some hard drives can still be sources of annoying vibration and noise.
To counter this you can use various software utilities which force the hard drive to sleep or otherwise spin down when not in use. Some companies even offer little black boxes so you can lock the drive away.
Noisecontrols NoVibes III (via www.chillblast.com ) takes a different approach and suspends the drive with large rubber belts to isolate it from the frame which can sometimes resonate the sound a drive makes into something much larger.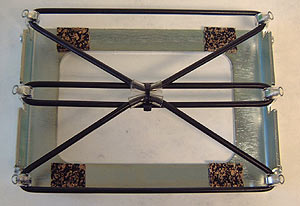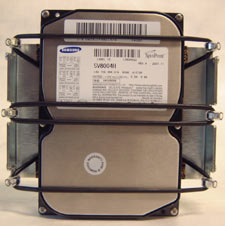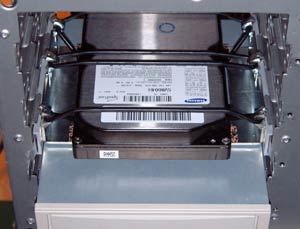 Unfortunately in 90% of the computers we have worked it is the fans and power supplies, and even CDROM's which topped the list of noise production. Older hard drives used to be a source of noise and distraction, but most of the 40GB and over drives we have been using lately have been pretty quiet.
Still, any noise is too much, and any vibrations can be bad so we decided to give the NoVibes III a shot. After looking over the instructions and following the pictures our test Samsung Spinpoint 80GB drive was installed and raring to go in a matter of seconds.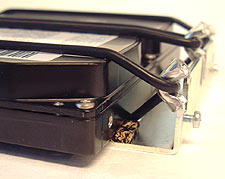 The rubber bands seem to hold it very firmly, but it would be adviseable to lock the HDD down if the computer was being shipped any great distances.
With the Samsung drive installed it was difficult to tell what, if any effect the NoVibes III was having.The best I can say is that the armature movements did not send little vibrations through the case.
As a standalone product I think it would be hard to see large benefits with the NoVibes III, but as one part in a total acoustic solution it would probably favor in well. As overall system noise levels were lowered below normal thresholds, the individual components would begin to have their presence felt.
Apart from reducing vibrations from the harddrive to the rest of the case chassis, it is difficult to put a tangible grade on the NoVibes III, but as part of a greater sound prevention system it could be a good ally to have under the hood.