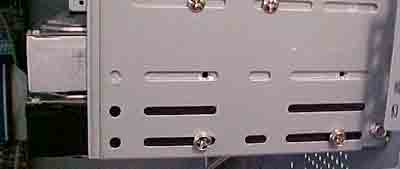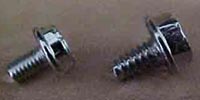 The next thing you would need to do when installing a hard drive is first turn off, and unplug your computer so you do not damage any of the components inside. After pulling out the plug, open up your case and locate a free 3-1/2" expansion slot in your case and slide the drive in. After it is in the slot, you have to secure it with some screws. The HDD screws we need are case screws, they're bigger then the floppy/CD-ROM screws. If you use the wrong ones the drive will be loose and could have the possibility of getting damaged. Remember to screw the drive in nice and firm.
After the HDD is secure in it's slot we have to attach the IDE cable. It's not very hard and you cannot plug the cable in backwards. What you need to do is align the red line on the cable to Pin 1 of the IDE port. All IDE devices have Pin 1 of the IDE port facing the power connector. After that, all you need is to plug in the molex power connector.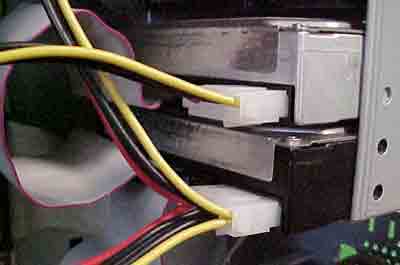 Now that the actual drive is physically installed into the computer, you have to partition the drive. There are many different file systems available, we're going to use FAT32 to partition our 10 GB HDD. The first thing you need is a boot disk. If you don't already have one or can't make one for some reason, you can always download them from www.bootdisk.com. When you boot up and go into the command prompt and type in "FDISK" and press enter. It will bring you to this rather simple text menu. The safest way to fdisk a drive is to disconnect the main IDE cable from your original hard drive. This ensures that you won't fdisk the wrong drive!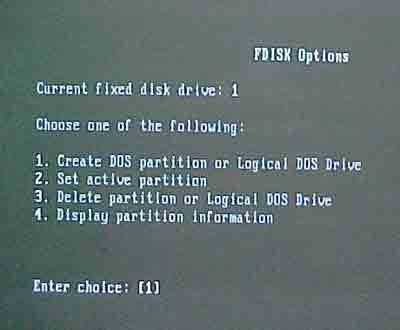 Our 10GB Maxtor HDD doesn't have a partition yet so what we want to create is a "DOS partition." At this menu you want to enter number "1" and press enter. That will bring you to this screen.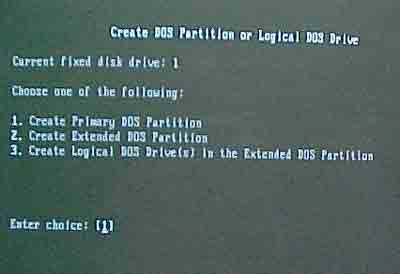 Here, we want to create a a primary DOS partition. You can only create a Extended DOS Partition if you already have a Primary DOS Partition that doesn't utilize 100% of the hard drive space. What I mean is say is that if our 10 GB Maxtor already had a 5GB Primary partition, to utilize the rest of the drive, we'd need to create an extended DOS partition. Anyway, we're getting a little off topic here; we want to create a primary DOS partition. After selecting that option (number "1"), you will see a percentage scroll from 0-100%. When it's at 100%, you'll be greeted by this screen.

Here, it's asking you if you want to use the whole drive for one big partition. In our case, selecting "yes" would mean we're going to use the whole 10GB drive in one partition. Selecting no would allow us to customize the size to whatever we like. We're going to say yes in this case. After the partition process is done you're going to have to reboot the computer. Leave the boot disk in the floppy drive because you will now have to format the hard drive.