At the command prompt we are going to format the new hard drive which we have just partitioned. If you already have a hard drive in your computer you DO NOT want to format that drive because it will erase all of your information.
Since the 10GB Maxtor is the new drive, it will be assigned the letter D because D comes after C. Here we would type "format d:"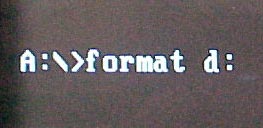 Please be very careful with this command, it's very powerful. After pressing enter, you'll be greeted by this warning message.

Since there's nothing on our 10 GB Maxtor, we're going to say yes here. Depending on size of the hard drive, it might take up to an hour to format your drive! Just be patient. If you're using a 80GB or larger drive you might be surprised to see that the format program reports back that your drive is only 10GB in size, don't worry that's just a cosmetic error. Once it the program finishes and shows you the statistics of the drive, you'll see 80 GB or higher.
Formatting within Windows...
If you're more of a Windows person you'll be glad to know that you can format the drive you just added through Windows Explorer. Simply open that up (after you make a partition first of course!) and you should see something like what is shown below. Click the drive letter just in case to see if there is any data on the drive. The last thing you want to do is format the wrong hard drive!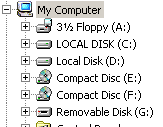 As you can see, there is now a D drive (or whatever letter it could be). All you need to do is either right click on the newly created drive or highlight the drive then go to File -> Local Disk (D:) -> Format.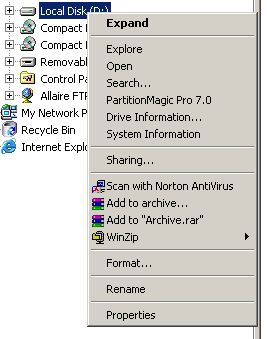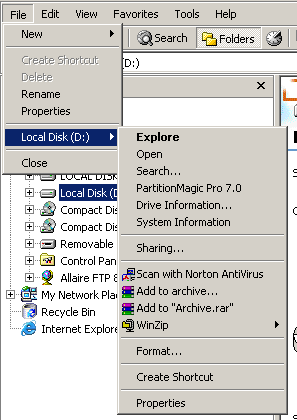 After you select format it should give you a screen like this.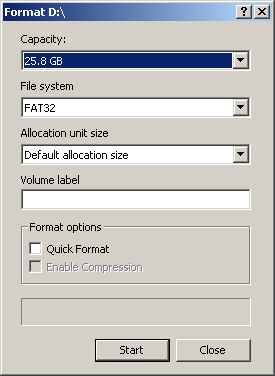 At this screen simply press the Start button keep in mind, this will take a while.
Conclusion:
As you can see it's not very hard to install a hard drive yourself in fact a newbie shouldn't have a problem installing one. With hard drive prices at all time lows, people who need more space really don't have any excuse not to purchase something bigger. Of course you might to download special utilities so you can use the larger drives if you have an older computer. In those cases you may need to flash your BIOS to accommodate those larger drives.
All you really need to do is make sure you have an open 3 1/2" slot in your computer and secure it properly in the slot. Your computer should have all the cables that you need (IDE or molex power connectors). Remember that the red line designates Pin 1 and that always points to the power source on IDE devices. That wasn't too hard now was it?
If you have any questions that we haven't touched on, please ask us here in the forums.
Related Articles:
Here are a few other articles that you might enjoy as well...