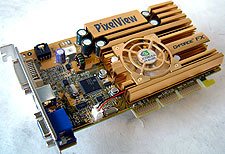 While the Prolink GeForceFX 5600 Ultimate Golden Limited 256MB videocard was not the fastest performing card that we have ever tested, it did pretty well considering its low price point. For just $250 CDN ($185 US) you can get a videocard that can handle all of today's games with both AA and AF enabled at reasonable resolutions.
The card also boasts 256MB of 3.3ns Samsung TSOP-II memory clocked at 600 MHz (which pretty much guarantees it's the fastest FX 5600 on the block).
While no games use that much memory at the moment, it's pretty future ready. The Prolink GeForceFX 5600 also sports a VIVO module so now your computer can be the hub of your multimedia center. For those of you who take two monitors, Prolink was kind enough to supply the necessary DVI to analog converter as well.
It's funny these days high end videocards come with almost no software which is a bit disappointing considering how much you have to spend. We were extremely happy to see that Prolink included a pretty extensive software bundle with their card (consisting of PowerDirector, WinDVD, Le MANS 24 Hours, CodeName: Outbreak, Ballistics, two demo CD's and driver CD) and could still set a pretty aggressive price.
While the core was not much into overclocking, the memory made up for it well, and I would say the test sample was a pretty good overclocker overall. If we had better cooling I'm sure we could have pushed the card even further!
If you're looking for a new videocard but don't want to break the bank, the Prolink GeForceFX 5600 Ultimate Golden Limited 256MB is an excellent choice. It offers a good blend of performance, features, and a price that's pretty enticing.
Find out about this and many other reviews by joining the Weekly PCstats.com Newsletter today!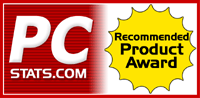 Related Articles

Here are a few other articles that you might enjoy as well...

2.