Abstract: We often take for granted the standard LCD display, looking first for the ultra thin dimensions primarily, and then investigating other areas.


88% Rating:

Home > Reviews > Monitors > Samsung 191T
The 191T from the front and back
The monitor has a very uncluttered appearance which would make it good for the corporate environment as the rear of the display has no large "Samsung" text imprinted across it like other models so it is pretty low key. The stand as we mentioned is removable, and attaches to the pane via 100mm VESA mounting points. Unlike the 181T, there is no hard wired power switch on the rear of the display, but then again the 191T uses an external power supply so one is not really required.
The rear of the 191T is clean and looks pretty good. There is a cable way to keep the power and video cables in check as they go behind the desk. If you look very closely on the lower right back edge of the display you can see the Kensington lock which has been integrated into the display for anti-theft purposes.

Below we can see what the screen looks like when the display has been rotated into portrait mode.
The adjustable stand bolts on to the back of the display panel at 100mm VESA mounting points and can be removed easily. Forwards and backwards tilting is a two handed job, but not difficult. The plastic swivel in the base works very poorly and the display doesn't rotate on it, but really just rotates the entire lot. Samsung used to use a really nice metal castor which rotated nicely.
191T OSD Menu: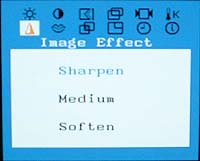 Samsung continue with their updated OSD which is layed out nicely and easy to navigate. While this menu system is not quite as lush as that of the 181MP series, it is a marked improvement over what we have come to expect from standard CRT displays.
To adjust the display it is usually much easier to simply push that all-in-one "Auto Adjust" button on the front panel. Do that and about 5 seconds later the 191T will be set perfectly. If the display is connected by the digital DVI cable no adjustments will be necessary.
The menu includes the following options: Brightness; Contrast; Image Lock: Coarse, Fine; Position: H/V; Color Control: Red, Green, Blue; Color Reset: Geometry, Color; Image Size: Normal, Expand 1 &2; Image Effect: Scaling on/off, Filtering; Language: English, German, Spanish, French, Italian, Swedish; OSD Position: H/V; OSD Display Time: 5, 10, 20, 200 seconds; and Display Mode: Hl/V Frequency & Resolution. Power, Brightness (+Up -Down), Auto Adjust, Menu, Video Select & Video Indicator (15-Pin D-Sub or DVI-D)