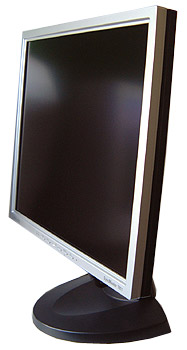 Since we have been getting a lot of requests from individuals to include some info about game and video performance of LCD's we have begun adding some simple tests; a few minutes of FPS gaming, and a playback of scene 29 from the Matrix (the one with all the shooting :). Since we can't really offer any quantitative numbers which relate to the effectiveness of the 25ms pixel refresh rate this is all subjective.
Keeping that in mind, it is pretty obvious that hard core FPS gamers will see LCD displays as blocky or choppy when compared to the CRT standard. Video playback on the other hand operates at a less intensive frame rate, and in the case of the Matrix the picture looked quite good, with no ghosting or choppiness visible.
Synopsis
In recent weeks Samsung have introduced several new LCD displays which have managed to continuously outperform and outsize. From our stand point it is getting difficult to continuously compete these different LCD displays against one another because the differences are all very slight, or nonexistent altogether.
As the 181T and 191T are virtually identical it is worth noting that should you decide to go for the larger of the two you will not be disappointed. The 191T is one of the first 19" LCD displays we have seen on the market, and is quite a sight to behold..... it is really going to be hard for Samsung to top this one unless they decide to come out with a 19" version of their F.A. Porsche designed monitor!
Do you think this LCD display is good or bad? Come to the forums and let us know what you think about it.
lcd display comparisons
display
pixel pitch
luminance
contrast
viewing angle
screen size
max resolution
price range

15 Inch

AOC LM-500
0.270 mm
200 cd/m2
150:1
50/50/40/40
15"
1024 x 768
$350
Hitachi CML153XW
0.297 mm
200 cd/m2
300:1
45/45/60/60
15"
1024 x 768
$400
Hitachi CML151XW
0.297 mm
200 cd/m2
350:1
45/55/60/60
15"
1024 x 768
$420
Samsung 150MP
0.297 mm
200 cd/m2
300:1
70/70/60/60
15"
1024 x 768
$650
Samsung 150T
0.297 mm
200 cd/m2
300:1
60/60/55/55
15"
1024 x 768
$600
Samsung 570S
0.297 mm
200 cd/m2
250:1
60/60/55/55
15"
1024 x 768
$500
Samsung 570V
0.297 mm
200 cd/m2
250:1
60/60/55/55
15"
1024 x 768
$400

17 Inch

Samsung 171P
0.264 mm
250 cd/m2
500:1
85/85/85/85
17"
1280 x 1024
$1000-1200
Samsung 170MP
0.264 mm
170 cd/m2
220:1
80/80/80/80
17"
1280 x 1024
$1000
Samsung 171MP
0.264 mm
240 cd/m2
400:1
80/80/80/80
17"
1280 x 1024
$1250
Samsung 171B
0.264 mm
240 cd/m2
400:1
80/80/80/80
17"
1280 x 1024
$800
Samsung 170T
0.281 mm
220 cd/m2
350:1
80/80/80/80
17"
1280 x 1024
$900

18.1 Inch

Hitachi CML181SXW
0.280 mm
235 cd/m2
350:1
85/85/85/85
18.1"
1280 x 1024
$900
Samsung 181T
0.281 mm
250 cd/m2
450:1
85/85/85/85
18.1"
1280 x 1024
$1100
Samsung 181B
0.281 mm
250 cd/m2
400:1
80/80/80/80
18.1"
1280 x 1024
$1200
Samsung 180T
0.280 mm
220 cd/m2
350:1
80/80/80/80
18.1"
1280 x 1024
$1600
Samsung 800TFT
0.280 mm
170 cd/m2
220:1
80/80/80/80
18.1"
1280 x 1024
$2500

19 Inch

Samsung 191T
0.294 mm
250 cd/m2
500:1
85/85/85/85
19"
1280 x 1024
$1200
lower best
higher best
higher best
up/down/left/right
(USD)