Abstract: The processor throws fits like a baby when there is not enough memory bandwidth, something which can often keep it from performing up to its potential.

Home > Reviews > Memory > Various
RDRAM vs. DDR RAM; Does it Really make a Difference?
---
The Pentium 4 is known to crave memory bandwidth above and over everything else. The processor throws fits like a baby when there is not enough memory bandwidth, something which can often keep it from performing up to its potential. This was evident when Intel released their original i845 chipset which allowed a Pentium 4 to be run with conventional SDRAM (hint: avoid like the plague).
Often a P4 equipped with SDRAM, running at similar clock speeds could not beat a P3 at 1 GHz in terms of performance! DDR alleviated the memory bandwidth bottleneck somewhat with the i845D, delivering 2.1 GB/s worth of bandwidth as opposed to the 1.08 GB/s SDRAM offered. That is still a far cry from the 3.2 GB/s RDRAM can supply though, and today we're going to take a look at whether the i850 "RDRAM" chipset is that much faster then the i845D "DDR" chipset.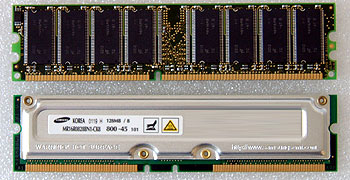 Many times readers have been writing in to ask; "Is RDRAM really necessary for a Pentium 4?" or maybe "I can't afford RDRAM, can I get by on DDR?" My personal favorite is; "I'm a speed freak on a budget, but can I get good performance with a P4/DDR combo? ".
Well today I hope we set these questions to rest and answer what has been on the minds of many; if Spiderman and Superman were in a battle who would win? We also plan on pitting RDRAM vs. DDR RAM and seeing which memory will be victorious - it is a battle royal that even the great Spidy can 'sense'.
There are a whole bunch of DDR chipsets now for the Pentium 4, but we're going to be focusing on Intel's own i845D. Why you ask? Intel has always produced fast and very stable chipsets (other then the i820) and the i845D is no exception. Based on the earlier i845 which was a very stable chipset in it's own, the i845D only brings DDR capability to the table and nothing else. Actually there are no real differences between the i845 or i845D. Sure there's an official revision difference, but basically the i845D is the i845 with DDR enabled.
The i850 board we are testing with is the nice red MSI 850 Pro5 which has official support for 400 MHz based Pentium 4's using the Socket 478 format. We had a few i845D based motherboards to choose from and eventually decided to keep it in the family and test on the MSI 845 Ultra. Our testing processor is a Pentium 4 2.0 GHz Williamette with 256KB L2 cache.
pcstats test system specs:

computer hardware:

processor:
Pentium 4 2.0 GHz
Clock Speed:

20 x 100 MHz = 2.0 GHz

Motherboards:

MSI 850Pro5
MSI 845 Ultra

Chipset:

Intel i850 (850Pro5)
Intel i845D (845 Ultra)

Videocard:

MSI GeForce 4 Ti4600 (300/660)

Sound Card:
N/A
Network Card:

N/A

Memory:

2x 128MB Samsung PC800 RDRAM
256MB Crucial PC2700 DDR RAM

Hard Drive:
40GB 7200RPM Maxtor D740X Ultra/133
CDROM:
Panasonic 48x CD-ROM CR-594-B
Floppy:

Panasonic 1.44MB Floppy Drive

Heatsink:
AVC Sunflower
PowerSupply:
Antec 400W PSU
Software Setup:
WindowsXP
VIA 4in1 4.38V
DetonatorXP 28.90
Benchmarks:

SysMark 2002
Content Creation 2001
SiSoft Sandra 2002 Pro
PCMark 2002
3DMark2001SE
Quake III Arena
Please keep in mind when testing both systems, the memory options were set to the most aggressive settings allowed in the BIOS's.