First thing to do is make sure you've discharged yourself of static electricity. Leave the system plugged in and touch the casing, all the static will discharge though the PSU. You can also get an anti static wrist guard that plugs into the wall socket.
Now that we've removed the Voodoo3 drivers from the system we need to power down the computer. Shut down normally like you usually do and unplug the power from your computer. ATX based motherboards do not fully power down when they are turned off and removing and installing computer hardware can be dangerous to the health of peripherals. Once the plug has been disconnected from the powersupply take off the side cover of the computer.
Remember the slot the monitor was attached to? That's the videocard. Once you find it we have to remove it from the computer.


With one free AGP slot (they are usually brown in colour) we need to insert the new videocard. We first need to align the AGP connectors on the videocard with the brown AGP slot.


Align the videocard with the AGP slot...


Then press firmly until the card is seated in the slot.
Now what we do is press firmly on the videocard until it's fully in the AGP slot. Stop when you feel the card not going in any further. Screw the card place at the metal edge connector to the case so it doesn't come loose.
Please note there are quite a few motherboards these days that come with an AGP lock of some sort. The purpose of this lock is to make sure the videocard doesn't become dislodged from the AGP port for any reason. When you're installing a videocard into a AGP slot with a lock, press down firmly on the videocard until you hear a click. When you hear that, the card is installed properly. In the picture below the lock is engaged, to remove the video card in the first place we have to press this white tab down first.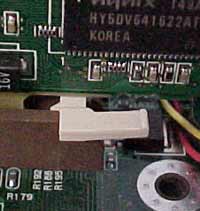 AGP Lock on the Epox 8K3A+