PCstats Upgrade Guides: Videocard Installation
---
The first symptom is when you notice that all the games you play are set to the lowest level of detail for acceptable frame rates. Then something starts nagging you about the bland ugly picture, you know the game wasn't 'meant' to be played like that. Diagnosis: you need a better, faster, and more advanced video card. The only problem is, while you can grin and bear the lousy 3D performance, you really aren't that sure how to install a new videocard on your own.
Well that is what we are going to show you how to do in this article: how to properly open up your computer and physically install a new video card, the drivers and everything you'll need so your computer works like it just came back from the store!
Installing a video card is a very simple process, but if you have never been inside your computer it can seem a bit daunting first. Luckily for you, the video card is one of the easiest components to upgrade! The card we will be installing is the ATi Radeon 8500, it's not the fastest gaming card anymore, but it does offer a good balance of excellent 2D image quality and good 3D performance.
This guide assumes that your computer has an AGP port on the motherboard.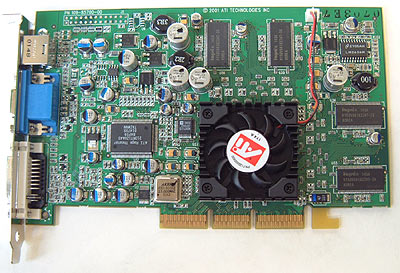 Retail ATi Radeon 8500 64MB version

The first thing we will need to do is remove all the previous videocard drivers from the computer system.
To do this you have to go to the "Add/Remove Programs" icon in the Control Panel, select the old drivers and remove them. In our case we're using a rather old 3dfx Voodoo3 2000 (and Windows 2000).

Here we see that 3dfx Tools is installed. We and to remove this from the computer because the Voodoo3 drivers might give the Radeon 8500 problems. Click on the remove button and follow the instructions. Similar procedures can be taken for most Windows operating systems.