While many of the new features and technologies introduced with the Parhelia GPU will require developer support to be useful, Matrox's 'Gigacolor' technology should have an immediate and positive effect on any graphics application. What it does is replace the 8-bit colour sampling (8 bits per primary colour, also referred to as 24 bit colour since R8+G8+B8= 24) found on current desktop video cards with more precise 10-bit sampling.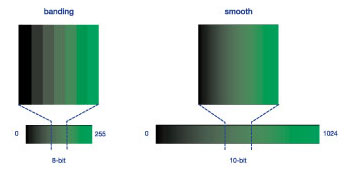 By the numbers, this means that instead of the 256 possible shades of red, blue or green obtainable with 8-bit color, the Parhelia has 1024 shade variations available for each of the primary colours. With four times as many shades for each colour, the Parhelia is able to render sixty-four times more colour gradients than an 8-bit colour GPU is capable of, from 16 million colours to slightly over one billion, hence 'Gigacolor'.
Given that every pixel of every onscreen image is rendered with a combination of the three primary colours in varying intensity, the greater the range of combinations, the greater the range of available shades, and the greater the range of available shades, the greater the precision of the final image. In 8-bit colour, banding can be a problem, especially at the darker end of the spectrum.
10-bit colour, as you can see in the graphic, gives a much smoother appearance due to the increased range of available shades. The Parhelia GPU uses 10-bit colour sampling all through the card, meaning that both 2D and 3D applications will benefit from it, including DVD playback and TV out. Matrox has specified that Gigacolor can be disabled through software, letting the card operate in regular 8 (24) bit colour. As for why this might be necessary, take a look at this article.