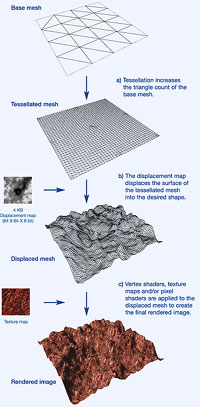 Next up in a long list of technical announcements is Hardware Displacement Mapping, or HDM for short. HDM is a brand new 3D rendering technology which Matrox has already licensed out to Microsoft for implementation in DirectX 9. In its simplest form, HDM takes a flat mesh of triangles and combines it in real time with a displacement map, and a two dimensional bitmap.

Each vertex on the mesh is then raised by an amount equivalent to the value of the pixel mapped onto it from the displacement map, thus forming a three dimensional image. To achieve full detail, the mesh is tessellated (Many smaller triangles are formed from the existing triangles of the mesh by adding vertexes) before the displacement map is applied.

Displacement maps can also be applied to existing three-dimensional models just like a texture map or skin would be, changing the actual shape of the model instead of altering the colour and texture. HDM's most natural application would seem to be for producing realistic looking terrain, especially since Matrox has stated that existing geographical satellite data can be easily converted into displacement maps. This news should make flight sim buffs salivate.

HDM should also help reduce bandwidth strains on the AGP port, since it uses relatively small bitmap files transferred from memory to generate complex 3D images on-chip. One possible limitation of this technology is that it cannot by itself render any overlapping terrain (leaning spires, overhanging cliffs, etc.), though presumably this could be worked around by using multiple meshes or other means.

As mentioned above, Matrox has licensed out the HDM technology to Microsoft for Direct X 9, so we will almost certainly be seeing this feature in the next generation of video cards from the major manufacturers. However, Matrox has incorporated another new technology into the Parhelia GPU which is patent-pending and specific to the chip such as Depth Adaptive Tessellation (DAT).

DAT is a hardware implementation of on-the-fly level of detail scaling, similar to software techniques seen in some recent games such as Serious Sam. As previously mentioned, Hardware Displacement Mapping needs a highly tessellated mesh in order to achieve full detail. Obviously, the more triangles the GPU needs to process, the bigger the performance hit, so to balance this, DAT tessellates a scene according to depth of field from the camera.

Meshes closer to the camera position receive the maximum level of detail/tessellation, with the meshes getting less complex the further away from the camera position they are. DAT can adjust the level of detail of an object dynamically, and given that it calculates the level of detail necessary based on each original triangle not an entire mesh or object, transitions between levels of detail should be smooth.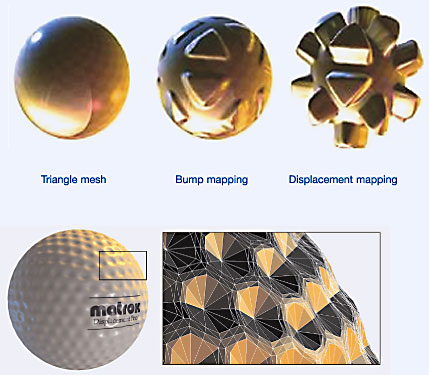 According to Matrox, handling tessellation this way vastly reduces the number of triangles necessary to produce an apparently complex scene, reducing the load on the GPU.