Infineon BGA memory of the ATI All in Wonder Radeon 8500 128MB Edition.
ATI has done an excellent job with their All in Wonder Radeon 8500 128MB Edition.
Based on the Radeon 8500 core its got the power to handle most of todays fast 3D games, but the AIW 8500 128MB has much more to offer then just good 3D performance. With full VIVO options and great software to back the card up, your computer can now be the center of your home entertainment as well, and that is just damn cool. Image quality is on par with what you expect from cable and that should make TV-viewing easy on the eyes.
The software that accompanies the All in Wonder Radeon 8500 is also very good, with new features such as the blended window option which allows for translucent TV viewing. This is the killer feature that anyone who spends way too much time on the computer is going to be picking the AIW up for! Guide Plus is a TV Guide and more, offering to record your favorite programs if you can't watch them and being able to see what will be on the tube up to seven days in advance.
In terms of 3D applications as you can see from the benchmarks posted, the All in Wonder Radeon 8500 128MB is no slouch. Often able to out pace it's older brother the Retail Radeon 8500 64MB, it can definitely handle any game currently out there right now.
In terms of overclocking, the AIW 8500 128MB was also up to the task, hitting 308 MHz core and 660 MHz memory.
The only down side to the card is its price of about $300 USD. Given the amount of features it has this is not really all that surprising, but it may be a tough pill to swallow for some consumers. However for those of you who must have the best, there really isn't another card that offers more flexibility then the ATI All in Wonder Radeon 8500 128MB, and that deserves a big thumbs up from us!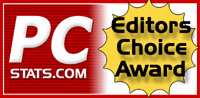 Related Articles:

Here are a few other articles that you might enjoy as well...

2.