ATI All in Wonder Radeon 8500 128 MB Edition
---
ATi has carved out quite a niche market with their All in Wonder videocard; they offer great flexibility that often rivals mid-level professional video editing systems, but with ease and use any consumer can appreciate.
ATi's All in Wonder (AIW for short) Radeon 8500DV is clocked slower (240 MHz core/340 MHz memory) then the standard Retail ATi Radeon 8500 (275 MHz core/550 MHz memory) videocard however ATi knows that most consumers looking at the AIW Radeon 8500DV aren't too concerned about 3D performance.
With the All in Wonder Radeon 8500 128MB model ATi has gone back to its All in Wonder roots. The AIW 8500 128MB no longer has IEEE 1394 "FireWire" built directly into the card, and ATi has gone back to a Phillips TV tuner rather then stick with the one that is used on the 8500DV.

The All in Wonder Radeon 8500 128MB retails for $525 CDN ($300 US) making it one of the most expensive videocards out there, however it comes with many features that regular video cards, even GeForce 4's just don't have.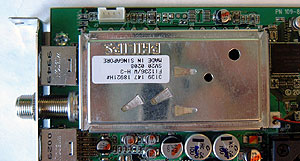 Magic in a silver box - the TV tuner bring cable television right onto your computers desktop.

The AIW Radeon 8500 128MB uses the same core as the original Radeon 8500 64MB which was released Aug. 2001. The core is clocked at the same speed as all retail ATi Radeon 8500's (64MB or 128MB) which means the AIW 8500 128 MB is a very good performer when it comes to 3D gaming - but there is so much more to the AIW 8500 128MB then just gaming.

The card is fully VIVO compatible and comes with a purple break out box which has almost become an ATI trademark in itself which supports S-Video in, Composite in and left/right RCA audio. Video Out options include S-Video, Composite out and SPDIF output capabilities.

The AIW kit also comes with an S-Video to S-Video cable and composite to composite cables. The AIW 8500 128MB natively supports a digital DVI video port so users with analog monitors will need to use the included Analog-to-DVI fob.

The software side of things shows the thought ATI has put into it, along with the usual driver CD (which is a little old) thre is ATi Mediator Software, Ulead Video Studio Software and Valve's Half Life. There is hefty users manual for the videocard, and its features and a multimedia manual as well.