Vantec EZ-Swap Removable HDD Racks
---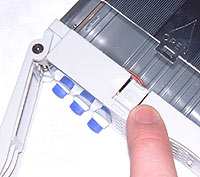 I've had varrying amounts of luck with removable hard drive racks; some worked, some created bad bits, and others just sat there grinning back at me as I brought down the hammer. I guess you could say it goes like this; cheap hard drive rack work most of the time but break easily, mid-level hard drive racks work well but cost too much for what they do, and brand name hard drive racks just don't exist. Or that was the case until Vantec entered into the market with their EZ-Swap removable (but not hot swapable) IDE hard drive racks.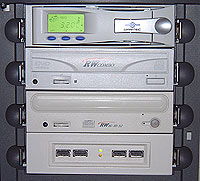 There are two models on the market right now, the MRK102FD and the MRK-103F, and apart from an LCD display and a few other features they are virtually identical. Between the two units the Vantec MRK102FD managed to surprise us, but first let's cover all the bases. The last time we looked at a removable aluminum hard drive rack it was the almost identical KF-21 which sells for about $45CDN.
The differences between the super-cheap KF-21 which is sold under half a dozen OEM name brands and the drives that Vantec are now selling is there if you look closely. The frame and caddy system is pretty much identical, but these little guys (MRK103F without the LCD display, and MRK102FD with the LCD) offer a few perks.
The best of which are the LCD display, thermal sensor, and fan alarm. The MRK102FD will set off a rather annoying, and rather loud beep if ever the rear 40mm cooling fan stops, or jams. A small thermal diode at the back of the caddy also takes temperature measurements and displays that information along with a few other things on the back lit green LCD panel.
The basic controls of the panel work well, but anything much more than that didn't seem to work to well - perhaps we should have read over the instructions more rather than play with that ATI AIW video card.... nah.
| | |
| --- | --- |
| The LCD display on the MRK102FD shows hard drive temp, drive activity, fan activity, and master/slave settings. Another screen shows the user total time up, and allows you to set an alarm if say the drive goes over 40 degrees C or F. Personally, I just like the erie green glow from the back light. | |
If you are a compulsive person who needs to know just how long a drive has been operational there is counter which will tell you in hour (or days) just how long the drive and computer have been up and running. It is nice eye candy, but since these drives are not hot-swapable in a desktop computer it is not really very useful.
The locks on the drives are standard computer issue and only prevent people from pulling out the drive when they really aren't thinking. It's not that we are expecting them to perform any different it is just that this is something worth mentioning so people don't assume they can "secure" their removable hard drive in situations where theft is a problem. These drives are meant to make removing the hard drive quick and easy, and thats what they do.
Build quality is very good, Vantec have opted for a design with a dust cover so that drive bay is sealed off when the caddy is removed. The aluminum looks as though it has been anodized and the connector pins at the rear are all gold plated and of good quality as well. Since this is just a suped-up hard drive caddy the pictures tell most of the story...