A bit on the GeForce4 MX technology
The GeForce4 MX core was not well received by the hardware community. Probably the biggest qualm with the chipset was its name. Since the GeForce4 MX is based on GeForce2 MX technology, the GeForce4 MX doesn't really deserve the 4 in GeForce4 MX name and in fact it's not even worthy of a GeForce3 MX title either since the GF4 MX core doesn't have any DirectX8 features. Also since the GeForce2 MX is usually on par with a GeForce DDR in terms of performance in most things, it's also too easy to assume that the GeForce4 MX is close to the performance of GeForce3 line of cards which is very far from the truth.
That being said it's a shame that the GeForce4 MX got off to such a bad start since it's quite powerful in today's games.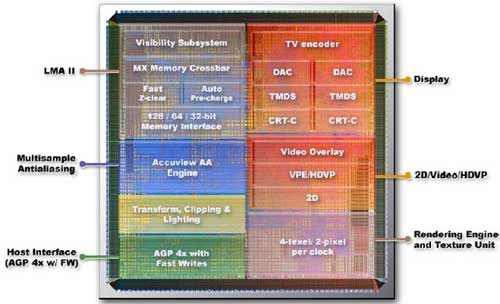 Core diagram of the GeForce4 MX
As we can see there are no vertex or pixel shaders; the hallmarks of a DX8 based graphics card. Still not all is lost. One of the biggest upgrades the GeForce4 MX received was Lightspeed Memory Architecture II (LMA II). This is very similar to what is found on the GeForce4 Ti line of cards. The MX400 also has the same multisampling AA engine, nView, and nVidia has upgraded the Visibility sub system as well
LMA II on the GeForce4 MX is setup a little differently from the LMA II on the GeForce4 Ti. Instead of having four 32bit independent memory controllers (4x32=128bit DDR) the GeForce4 MX has two 64bit independent memory controllers (2x64=128bit DDR). From looking at this, it's obvious that the GeForce4 MX LMA II isn't as efficient as the one found on the GeForce4 Ti, but it's a very nice upgrade over the memory controller found in the GeForce2 line of cards. If you're interested on how LMA works, please read this.
Accuview AA is only available in Direct3D games at the moment and it tackles one of the major problems found with AA enabled, blurry images. Accuview AA solves this problem by moving the subpixel taken for reference inside the actual pixel instead of on the edge like in Quincunx AA. This gives the videocard a more accurate read on colour and when AA is enabled should produce an image that is sharper with less colour error. For more info on how Accuview AA works please look at this.