Quake III Arena is a First Person Shooter (FPS) that revolutionized gaming as we know it. Using multiple light sources and having graphics textures that can fill videocards, even after 3 years it's still able to bring a cutting edge system to its knees.
Quake III Arena MAX 1024x768 demo001
Video Card
FPS
Ranking
1.
Albatron MX440 2x
82
2.
Albatron MX440 QC
82
3.
Albatron MX440 4x
40.8
Since Quake III is a OpenGL based game there isn't any Accuview AA option. 2x and QC AA are barely acceptable in terms of performance, but 4x is definitely a no go.
Conclusion: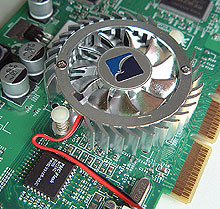 Albatron has set their sights directly on the value gamer and they do deliver with their GeForce4 MX440 videocard. We were very surprised at how well the Albatron GeForce4 MX440 performed even in DirectX8 benchmarks even though it's not DirectX8 compliant. 1024x768 seems the best resolution to play at with the Albatron GeForce4 MX440 anything higher and the card starts to max out. Since our card is a pre-production unit we're not sure how much it's going to be, but we expect it will be priced competitively.
As you can see in the benchmarks the Albatron GeForce4 MX440 can handle even the most demanding benchmarks such as AquaMark or Commanche 4 and when overclocked in some occasions it can even come close to a Ti4600 in terms of performance!
For a first time manufacturer we were generally happy with the Albatron GeForce4 MX440. Of course, nothing in life is perfect however. About the only thing we can complain about is that we would have liked to have seen the presence of a second monitor output since the GeForce4 MX440 does support two monitors.
If you're a casual gamer you'll probably like the Albatron GeForce4 MX440 - it's fast and can handle most of the games out there with good frame rates. If you are a more hardcore gamer, or someone who wants a little more future proofing, you'd be best to look towards nVidia's higher-end Titanium-based videocards.
Related Articles:
Here are a few other articles that you might enjoy as well...