Quake III Arena is a First Person Shooter (FPS) that revolutionized gaming as we know it. Using multiple light sources and having graphics textures that can fill videocards, even after 3 years it's still able to bring a cutting edge system to its knees.
Quake III Arena MAX 1024x768 demo001
Video Card
FPS
Ranking
1.
MSI GF4 Ti4200 2x AA
157.8
3.
MSI GF4 Ti4200 QC AA
157.6
5.
MSI GF4 Ti4200 4x AA
94.3
Quake III Arena MAX 1600x1200 demo001
Video Card
FPS
Ranking
1.
MSI GF4 Ti4200 2x AA
64.1
3.
MSI GF4 Ti4200 QC AA
53.9
There is no nv15demo because that's more of a CPU tester. 1024x768 with AA gives acceptable framerates but you can forget about it at 16x12.
Conclusion: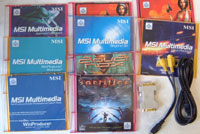 Not one to be cheap, MSI pack in no less than nine CD's of software, games and other goodies.
Like the G4Ti4600-VTD we reviewed earlier, the MSI G4Ti4200-VD64 is one heck of a videocard. For only $275 CDN ($150 US) the G4Ti4200-VD64 offers an excellent price/performance ratio. MSI didn't skimp with the extras either, this card has a DVI to analog converter for dual displays, three full version games as well as a whole host of other software!
Performance of the card was great; sure it's not as fast as a Ti4600 at high resolutions but it's about $200-300 cheaper as well. We were very pleased with how much extra performance we could squeeze out of this little card. Hitting an amazing 321 MHz core and 608 MHz memory speed allowed it to reach close to Ti4600 levels and that was with stock cooling!
Thanks to such a great software bundle and excellent performance, we recommend this card to any type of gamer, be it hard core or casual. The $275 CDN price tag isn't really that high and it offers performance close to that of videocards that $300 more expensive!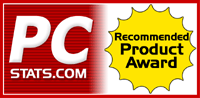 Related Articles:

Here are a few other articles that you might enjoy as well...

2.