MSI G4Ti4200-VD64 Video Card Review
---
Originally we were told that nVidia would not be releasing GeForce4 Ti4200 - choosing instead to let the GeForce4 MX fend for itself in the "mainstream market". ATI entered the picture and forced nVidia's hand with some very aggressive price cuts on the 64MB Radeon 8500. The Radeon 8500 is a far superior card to the GeForce4 MX460 (its' main price competitor) in every way (performance and features), but when the 8500 is compared to the GeForce4 Ti4200 it's a totally different story!
With the ever increasing price of videocards, manufacturers are often looking for ways to keep costs down, and buyers interested. With those fiscal considerations in mind it's amazing that MSI can bundle so much hardware and software with the Ti4200. With a retail price of $275 CDN ($150 US) you get full VIVO options, a DVI to analog converter for dual display capabilities, MSI DVD, WinProducer, WinCoder, three full version games (NOLF, Sacrifice and AquaNox) and a seven game demo CD.
The CD's are packed in slim line jewel cases rather then use the ever cheap CD envelopes; funny how it is the little things that get noticed!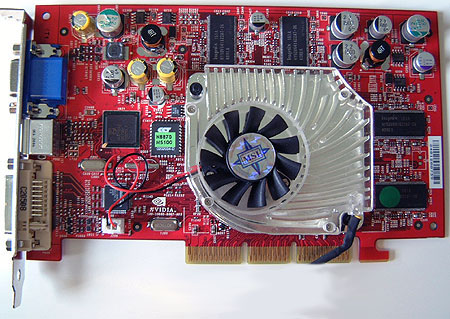 MSI have been keeping things pretty consistent with the red PCB's and the G4Ti4200-VD64 follows suit in timely fashion. The physical layout of the videocard is actually closer to that of a GeForce2 (not MX) then the Ti4400/4600 and BGA mem is absent for Hynix 3.6ns RAM. Since the Ti4200 runs both its' GPU and memory at a lower frequency, manufacturers can get away with using simpler six layer PCB rather then then the more expensive eight layer found with the Ti4400/4600.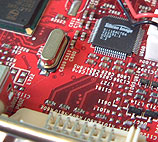 The G4Ti4200-VD64 comes with just 64 MB of DDR RAM and that is not necessarily a bad thing since there are no games that will take advantage of 64MB of memory, let alone 128M. This may change soon with the slew of newer games coming out however.
NVidia's reference design only calls for 4ns DRAM so it was cool to see MSI one-up the specs and choose 3.6ns DRAM. It may not sound like a big deal, but having faster DRAM should improve our overclocking chances!
It would have been also nice to see some ramsinks, but that's not a big deal since the memory is only runs at 500 MHz. With the lower core clock speed we were a bit surprised to see MSI has chosen to use the same GPU cooler that cools their Ti4600 on the G4Ti4200-VD64 since it does produce quite a bit of noise all things considered.
Even though the GeForce4 Ti4200 is the "lower end" GF4 Titanium, it still has all the features of its bigger brothers; namely Accuview AA, LMA II, and Dual Vertex Shaders. If you'd like to learn more about the GeForce4 Ti technology please read our Gainward GeForce 4 PowerPack GS Ultra/750XP or nVidia GeForce 4 preview.