3DMark2001 SE is the latest installment in the 3DMark series by MadOnion. By combining DirectX8 support with completely new graphics, it continues to provide good overall system benchmarks. 3DMark2001 SE has been created in cooperation with the major 3D accelerator and processor manufacturers to provide a reliable set of diagnostic tools. The suite demonstrates 3D gaming performance by using real-world gaming technology to test a system's true performance abilities. Tests include: DirectX8 Vertex Shaders, Pixel Shaders and Point Sprites, DOT3 and Environment Mapped Bump Mapping, support for Full Scene Anti-aliasing and Texture Compression and two game tests using Ipion real-time physics. Higher 3DMark scores denote better performance.
3DMark2001 SE Default Benchmark Results
Memory (FSB/Memory)
3DMarks
Ranking
1.

256MB Kingston PC2700 (166/333 MHz)

11245
2.

256MB Kingston PC2700 (205/410 MHz)

11615
3DMark2001SE just loves the extra bandwidth as well. As we can see almost a 400 point increase just for increasing the FSB! =)
Quake III Arena is a First Person Shooter (FPS) that revolutionized gaming as we know it. Using multiple light sources and having graphics textures that can fill videocards, even after 3 years it's still able to bring a cutting edge system to its knees.
Quake III Arena Fastest demo001

Memory (FSB/Memory)

FPS
Ranking
1.

256MB Kingston PC2700 (166/333 MHz)

286.5
2.

256MB Kingston PC2700 (205/410 MHz)

305.6
Quake III Arena Fastest nv15demo

Memory (FSB/Memory)

FPS
Ranking
1.

256MB Kingston PC2700 (166/333 MHz)

83
2.

256MB Kingston PC2700 (205/410 MHz)

88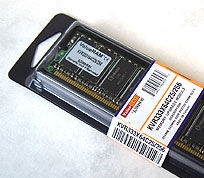 Breaking 300 fps in Quake III is usually a feat only done with P4 systems. We also notice here how nicely the bandwidth helps performance!
Conclusions:
From the beginning we weren't expecting much from the Kingston ValueRAM - mainly because of its name... Putting the word "Value" in any products description is like saying it is OEM or generic. And as we haven't had much success overclocking PC2700 DDR memory in general, there were abundant expectations that the Kingston ValueRAM would just follow suit.
Unless this was a freak high-performing stick of memory we walked away pretty darn impressed with what ValueRam could do for us. Hitting an amazing 205 MHz FSB is a shocker, and that with the most aggressive memory timings available in the bios!
I can easily recommend the Kingston ValueRAM to anyone looking for some great PC2700DDR. With a street price of $76USD through online retailers like Directron, this memory is hardly expensive for what you get in return. As Kingston have been known for great customer service and a lifetime warranty, that just becomes icing on the cake. Heatspreaders would have been a nice touch, but a quick trip to Thermaltake could take care of that.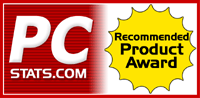 Related Articles:

Here are a few other articles that you might enjoy as well...

2.