Kingston PC2700 DDR333 ValueRAM Review
---
Kingston Technologies is a seasoned veteran when it comes to computer peripherals. If it has the Kingston logo on it you're basically assured of a quality product.
Like Crucial, Kingston waited for JEDEC to approve a DDR333 standard before they started selling DDR333 memory. Why is that? Company A can claim to sell DDR333 memory but that memory may not pass Company B's DDR333 tests. Now with an official standard, all memory modules have to pass the same tests to carry the official DDR333 or PC2700 stamp.

Looking at the DIMM we can see it is single sided, quite a rarity for 256MB DIMMs. The 256MB PC2700 ValueRAM ($76USD from Directron) uses 6ns Winbond DRAM and has a CAS Latency of 2.5 at 166 MHz operations. Since the DRAM is based on the TSOP-II form factor we would have liked to see some RAMsinks on the DRAM because it can reach elevated temperatures at high speeds.
If you are wondering why the DRAM modules don't have a Kingston logo on them it is because Kingston out source that to other manufacturers such as Micron, Nanya, Winbond, etc. They p roduce the PCB, select the DRAM chips and package the entire product. PCB quality can often play a rather large role in the reliability of memory, and looking at the stick we can see that it is very good quality.
Overclocking with Kingston Memory
I've always considered myself a good overclocker, but one thing that has always bothered me was that I couldn't reproduce some of the greatest overclocks I've seen on the web. There are quite a few websites which have reached 200 MHz+ FSB's with almost the same hardware I usually hit just 180-185 MHz FSB with! What was I doing wrong, was it really all in the memory? Apparently so...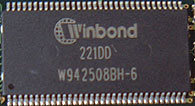 I didn't have high expectations for the stick of PC2700 DDR since it was labeled "ValueRAM," and because my previous overclocking attempts with PC2700 weren't very good to say the least.
After testing the Kingston memory at 166 MHz FSB with the most aggressive memory timings (2,2,2,5,1) I started to up the FSB a little at a time. At 175 MHz FSB I hit my first roadblock. The system would boot into Windows XP, but it would crash back to desktop when running 3DMark2001SE.
I had to up the memory voltage to 2.7V to stabilize the RAM at 175 MHz. The Kingston ValueRAM easily broke the 180 MHz barrier I've been stuck at for the last little and with a voltage of 2.8V, and it was then able to go all the way up to 205 MHz FSB!!! I was simply blown away!
As you'll see in the benchmarks, this does give a nice performance boost! On a side note, we noticed that the Kingston ValueRAM didn't seem to like higher voltages, at 2.9V+ the memory refused to even POST.