Samsung SyncMaster 240T 24-inch TFT Flatpanel Review
---
There have always been those who appreciate technology and strive to have the best, the biggest, and the most impressive. It must be nice to have such luxuries, and when speaking of LCD display's you will be hard pressed to find anything bigger, or more impressive then this 24" LCD TFT monitor from Samsung.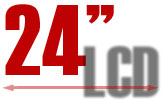 The $4600USD Syncmaster 240T is one of the largest desktop LCD displays available, supporting native resolution of 1920x1200 pixels... that is big, very big.
The 13.8Kg display has enough screen real estate to display no less than four web browsers, and with room still remaining for WinAmp on the side. Of course, you will have to have a video card capable of outputting an Analog WUXGA signal of 1920x1200. For some unexplained reason, the 240T only supports 1280x1024 on a digital DVI video cable.
As the large screen size wasn't enough of an incentive, the 240T also features twin 17" tall speakers which clip onto either side of the display for a sound system. The 240T is pretty jaw dropping by itself, and when we went round back and saw the amount of inputs on the rear, thoughts of home theatre immediately sprung up. The Samsung 240T has quad signal inputs; including 15-pin analog, digital DVI, S-Video and RCA.
With all that the 240T has to offer is suited to home theatre, commercial presentations, and high-end workstations rather than users like you and me.... except perhaps graphic artists - I know a few who have been spending an awful lot of time in the PCstats labs lately. :)
Samsung Syncmaster 240T Display:
24" Diagonal Viewable Size (a-si TFT/PVA)
Dot pitch of 0.27mm
Contrast Ratio: 450:1
Luminance: 230cd/m2
Viewing Angles: 80/80/80/80 (up/down/left/right)
Max Pixel Rate: 200MHz
Consumes 95 Watts on average
1920x1200 (analog) 1280x1024 (digital) pixel resolution, analog and DVI connections
Weighs approx. 13.8Kg
Dimensions: 24.4"x19.0"x9"
External universal power supply (100-240 Volt AC)
Comes with: CD-ROM, 6 foot power cord, 15-pin D-sub analog video cable, DVI video cable, S-video cable, RCA cable, DC adaptor, pair of 17" speakers, remote, batteries and manual.
Manufacturer: samsung
cost: $7000 cdn ($4600 usd)
touch sensitive controls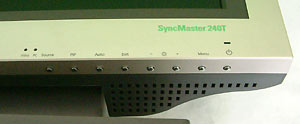 The 240T has all the control buttons located on the underside of the disply, off on the right hand. Now rather than using standard buttons which have to be pushed in, these shiny silver controls are entirely touch sensitive.
That means each of the eight control buttons will only respond to direct contact with a finger. A very cool feature that gives the display a high-tech James Bond-ish feel. These eight buttons control power and an assortment of other variables like; PC signal source, PIP (picture-in-picture), Auto adjust, Menu Exit, Brightness +/-, and Menu.
Of those the auto adjust and source select are probably the most significant. PIP is nice of you want to split the screen and watch video while working on the computer, but it is really is much nicer to watch full size, and there are a couple aspect ratios to choose from on top of that (16:10, 5:4 or 4:3). Switching between signals (analog, digital, RCA or S-Video) takes a few seconds with each touch of the button. If you have to do a lot of changing around this can get somewhat tiresome, but otherwise it is perfectly fine. Many of these options are also available by the 240T's mini remote control as well.
Remote Control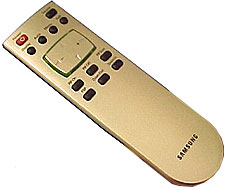 And what would a "big screen" be without a remote? How would anyone be able to surf between computer and video? True to form, the Infrared remote is useful for controlling the menu and PIP features from afar. The remote has a small, and somewhat stiff cursor pad that is surrounded by some greenish plastic. The remote is fairly standard, and it is used with a few other Samsung displays we have tested in the past.
The remote requires two AAA batteries which are included. The only bad thing we can say about the 240T revolves around the rather shallow range the remote has if you are less than three feet from the display. The sensor for the Infrared signals is at the top of the display and seems to be more finicky at closer distances...
The cursor pad on the remote is also too stiff and makes navigating through the on screen menu options slightly difficult. Considering the cost of the 240T, Samsung really ought to have included a better quality remote, or simply left it out altogether.
To give some scale to this all, consider the picture to the left. With the amount of space the Samsung 240T gives us, we are able to open four browsers and even have room to spare for winAmp. Resolution is at 1920x1200.

With PIP enabled (400x300, 640x480 or 800x600) is possible to have the RCA/S-Video feed share the screen in a little window. The 240T can swap things around so the video is full screen and the PIP is from the PC as well.

The last feature, PBP works in a similar fashion except it splits the screen right down the center with PC (analog/DVI) on one side, and Video (RCA/ s-video) on the other.

If all this doesn't do it for you just imaging what you could do with an ATI all-in-wonder card and this baby.... transparent screens and more!!