Asus CDS-5000 CD-ROM Review
---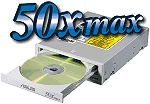 When one thinks about CD-ROM drives, it is likely that the name Asus isn't one of the first names on people's minds. Known for their ever so popular motherboards (and even graphics boards), one might wonder whether or not such a motherboard centric company can dish out the quality in goods such as CD-ROM drives. In fact, Asus has been extremely successful on the weight of their motherboards alone and probably do not need to rely on sales of their other products to remain at the position they are in now. That, my friends, is certainly a feat in itself.

With the surge in DVD-ROM sales, conventional CD-ROM drives may not be as appealing as they used to be. But all hope isn't lost for CD-ROM drive manufacturers.
For those who wish to purchase DVD-ROM drives in hopes of native software support, you may be in for a long wait. DVD-ROM titles are slowly appearing on the market (the key word is slowly here) and most of the titles out there still appear on regular CD-ROM format. One of the most obvious factors to the current relative success of CD-ROM drives over their DVD-ROM counterparts is price. It isn't uncommon to see CD-ROM units to be around 1/3rd the cost of DVD-ROM drives. The price difference between in relation to DVD-R drives is altogether another story. All in all, what it really comes down to is need.
DVD-ROM drives have the backing of loads of movie titles but lack with less support for software especially targeted for DVD-ROM drives. Of course, one can always purchase a DVD-ROM drive and run your older CD-ROMs, but if the price difference suits you, you just may be a better man for it. What can be said right now is in the future, expect greater software support for DVD-ROM drives. That is where the industry is going towards. The process may be slow, but it is for sure. Until then, the CD-ROM drive still has a great share in the personal computer marketplace...

This review focuses on the Asus CD-S500 50x Max CD-ROM drive. Not exactly the newest drive on the market, but such a good drive is definitely worth another review. Here is what the manufacturer has to say about this drive.

Specifications

- 3,300 - 7,500 kb/sec maximum sustained transfer rate
- 75 - 150ms typical access time
- 128KB data buffer - 10,400 rpm spindle speed (CAV) - ATAPI bus interface
- Support for CD-ROM, CD-Audio, Mode 1 and Mode 2 CD-ROM XA, Mode 2, form 1 and form 2 CD-I Trax Karaoke CD Photo-CD (Single & Multi-session) Video CD Mixed Mode CD (Audio combined data) CD-Extra
- Size support for 656 MB (Mode 1) 748 MB (Mode 2) 74 minutes and 42 seconds - Front panel controls consisting of a stop/eject/load button. Audio play/track skip button. Audio volume control knob and earphone jack. LED indicating power on/busy and a paper-clip emergency release hole