Report on PCExpo / TechXNY 2002
---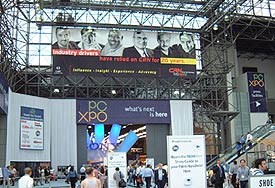 The underlying theme of this years PCexpo was supposed to be practical uses of technology, but the event was really held at the mercy of New York City grid lock where shiny little bits of technology, no matter how cool it may be, can't really help you out.
New York is an amazing city for countless reasons, but its transportation backbone is ancient, overloaded, and falling apart. Getting around New York can be such a challenge that we were forced to scrub at least two meetings, and I suppose that, and the oppressively hot weather left a bad taste.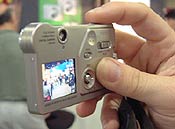 Still, as conventions go, PCexpo 2002 did have a few cool things hiding in the Jacob Javits center to look out for. Casio managed a show coup with their Exilim digital camera.
Straight from Japan, the tiny camera which also doubles as an MP3 player if you pick up the right version had everyone talking.
The camera is just about the same size as a credit card, and only 11mm thick as the model with the tight leather pants who walked around the show floor kept telling everyone, including other exhibitors. It's impressive to see one single product capture anyone's attention in a show full of cutting edge technology, but when it also captures the attention of the other exhibitors you that is even more impressive.
In any event, it was the show we came to see, and this year seemed a bit smaller than previous ones.
On the new and notable list a 9.6 megapixel 22.2" LCD from Viewsonic, and a few other component technologies like Serial ATA. The 22.2" high resolution LCD monitor from Viewsonic simply blows traditional LCD's out of the water with its resolution and image quality. I have always followed the LCD display scene pretty closely, and I was really floored by how clear, and true to life the display was.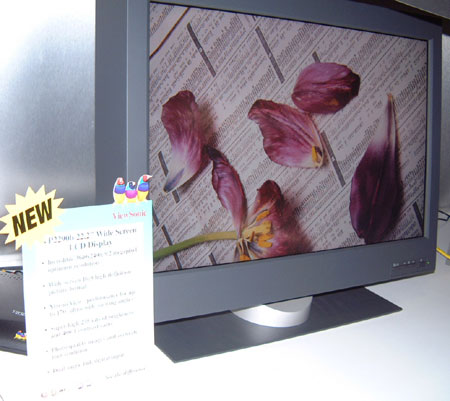 Individual pixels on the Viewsonic VP2290b were not visible, and are in fact ten times more dense than a standard LCD display. This allows text and other graphics to be displayed more like a true CRT, but with the qualities that make LCD's so appealing.