Albatron GeForce4 Ti4600
---
There's only one GPU that comes to mind when we want a high performance videocard and that's the GeForce4 Ti4600. The Albatron GeForce4 Ti4600 uses nVidia's GeForce4 Ti4600 GPU and their videocard follows the reference design down to a tee.
Albatron is targeting the hard core gamer who doesn't need any of the extra "frills" or software, they're just looking for a cost effective high performance card without any of the added-value stuff that gets in the way of good gaming. Albatron was pretty successful in doing this as the Albatron GeForce4 Ti4600 is the most inexpensive Ti4600 around at $490 CDN ($305 US).
The first thing that caught our eye when we received the card was the beautiful blue PCB colour. We see that Albatron uses the standard nVidia reference heatsink which is very similar to that of the Gainward GeForce4 PowerPack GS Ultra/750XP and MSI G4Ti4600-VTD.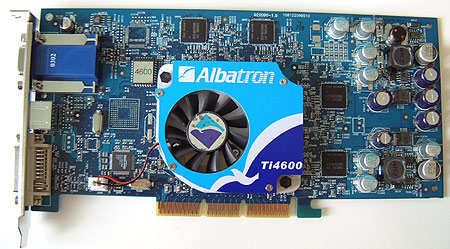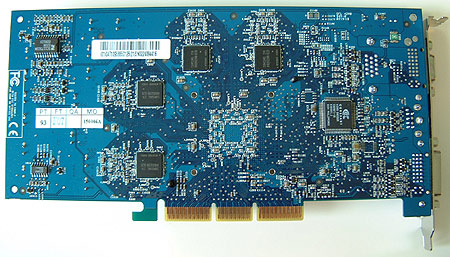 Isn't that one good looking card?
The Albatron GeForce4 Ti4600 features one analog monitor port, one DVI and a VIVO module. I would have liked to see dual DVI's like those found on the Gainward GeForce4 Ti4600 as they give you the flexibility of having two DVI based monitors.