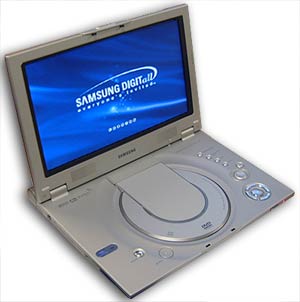 There aren't too many things that would get me to drop everything on the go, and use what's left of my free time on a weekend to review just one more piece of gear... that is until I saw the aluminum encased DVD-L100 portable DVD player from Samsung which retails for about $900 USD.
I suppose it's just cruel fate that this extra special travellers companion didn't reach the PCStats labs until after we had returned from our lengthy sojourn to New York for PCexpo 2002.
While the flight is too short to catch an entire flick, on the way back we could have watched about 4 movies back to back for all the delays!
The DVD-L100 is intended to be used by travellers to break the boredom, and speed up the time a trip seems to take.
And as you can see, what we have here is a portable DVD drive, a 10" LCD display (in perfect 16:9 aspect ratio for letter box movies), a Sony Memory Stick media port (for MP3's), twin headphone jacks and a small assortment of audio and video outputs.
The 10" WVGA 800x480 pixel LCD screen has a contrast ratio of 300:1, brightness value of 350 cd/m2 which is really impressive, viewing angles of U/D/L/R (45/45/60/60) and a dot pitch of 0.27mm.
Features & Specs
Samsung DVD-L100:
Portable DVD watching on the go with this lightweight player which also encorporates a Sony Memory stick port for added media versatility.
Features:
DVD, VCD, Audio CD, CD-R/RW MP3 file playback
10 Bit Video Digital to Analog Converter
96KHZ/24BIT Audio Digital to Analog Converter
Progressive Scan Output
Comes with: Digital Cable, Travel DC Adapter(12V/24V), Remote, Carrying Case, 4400mAh Battery
Technical Specs:
10" 16:9 Screen
Twin headphone jacks
4400mAh Li Battery
Memory Stick slot
Digital audio, video out, YPrPb output.
Twin mini speakers
Dimensions:
10.4"x1.0"x7.1"
(w x h x d)
Weight:
2.4 Lbs
Approximate Price:
$900.00 USD



Remote: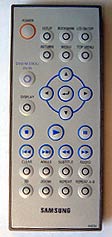 Battery life is listed at 3 hours with the standard 7.4V 4400mAh Lithium Ion battery, and up to 6 hours with an optional extended life version. In our playback tests, the DVD-L100 lasted a bit under the 3 hour mark, coming it at 2 hours 25 minutes.
Battery life can vary depending on screen brightness, volume, and other factors. The unit comes standard with a 4400mAh Lithium Ion battery, a travel case, travel AC adaptor, wireless remote and assorted cables. The outer shell is aluminum alloy to give the DVD-L100 a fighting chance of surviving those luggage compartments, and carry on tumbles unscathed.
Measuring about the size of an ultra light notebook the DVD-L100 could easily fit in a briefcase or manilla envelope for that matter. The entire unit is just 1" thick, and weighs under two and a half pounds. The added versatility of the Sony Memory Stick interface allows the DVD-L100 to play back encoded MP3 files, or other digital media like photos for example.
Features and controls:
The amount of controls a person cramped into seat 11D really need are not that complex, and so the DVD-L100 is conservatively button free, and intuitive to operate.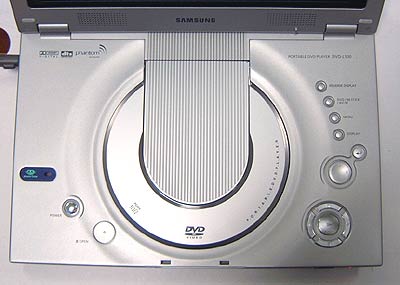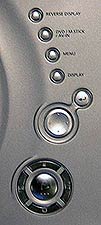 The aluminum deck has three areas to pay attention to; on the left hand side there is the Sony Memory stick slot, power button, and disk open button. The disk player is hidden behind a spring loaded cover which sits dead center on the deck.
The spindle is similar to the kind you would find in a portable CD player, with the DVD only needing to be seated by the user. Getting the DVD out of the bay would have been a bit easier for people with large fingers if a recessed area was included in the rim. In any event there is about 8mm of space around the DVD so it is not too difficult to remove the disk from the spindle after a bit of practice.
On the right hand side we have the majority of the user controls for playback, menu navigation and other one-touch features. Since the frame here is made from an aluminum alloy it transmits the heat from the internal electronics effectively. As DVD playback can be an intensive operation this side of the Samsung DVD-L100 reaches temperatures as high as 46 Celsius. Incidentally, the LCD display will get as warm as about 35 Celsius by the backlight and internal electronics.
In addition to the main playback controls on the bottom which give the user reign over common things like play, pause, stop and indexing we see a menu navigation cursor and "enter" key just above. I think separating the two controls is much better than trying to combine them into the same five playback buttons.
Just above the navigation cursor are four buttons for one-touch features like; reversing the display (if the DVD-L100 is mounted to the ceiling of a car for example), switching between DVD/M.Stick/AV inputs, jumping to the DVD menu, and bringing up the DVD-L100 on screen settings.