Transmeta Corp Reference Motherboard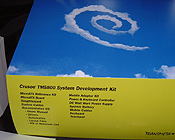 Of particular interest to us, and I suspect many of you reading this is the announcement of a Crusoe TM5800 System Development Kit (SDK) - or in other words a reference motherboard. The package will be aimed at developers interested in creating their own Crusoe powered notebook, tablet PC, information appliance, webserver, or whatever else they can imagine.

The ATX platform comes with a TM5800 Crusoe processor (solderd on) running CMS 4.3.2 and a comprehensive variety of sockets, interfaces, connectivity options and components. Pricing is expected to be set in the range of $999USD, and the SDK will be available to idividuals who register though the Transmeta website. More details, and a full review of the Crusoe TM5800 SDK will be up on TransmetaZone.com shortly.

Why a reference platform?

Videocard GPU manufacturers like nVidia and ATI have been releasing reference cards with their newest and most powerful chips for years now and this has helped Taiwanese manufacturers come to market with products quickly and with less expenditure - spurring the sales benefit back to the videocard processor manufacturer in this case.

For example, Visiontek and nVidia share a very close relationship in this regard. Visiontek manufacturers all of nVidia's reference cards and thus they are typically able to get their videocards which are based on the reference design to market before any other company as a benefit to themselves. Visiontek generally capture the market for the first month of any new Nvidia GeForce graphics processor cycle, and then the Taiwanese companies enter into the melie with their own variations of the same reference card design. In some cases those differences can be entirely superficial (different colour PCB's, flashy heatsinks, bundled software, etc.), or they may incorporate improvements on the reference design.

The key point is that by supplying manufacturers with reference platform from which to begin designing their own applications, the time and resources it requires to deliver a Crusoe based product is shortened.