ECS AG400 SiS Xabre 400 Videocard Review
---
SiS is very hot at the moment and seems to be very much on the ball in terms of producing chipsets. It all started about a year ago with the release of the SiS 735 chipset for the Athlon and has simple grown from there. That chipset was the fastest thing when it came out, totally dominating the competition however SiS's success was not limited to AMD platforms alone, their 645/645DX also was very powerful and popular.
When SIS recently announced the Xabre line of Graphics chipsets the hardware community greated the news with some skepticism. Sure on paper the Xabre was powerful in appearance, but how would it really perform in silicon? As it was ultimately destined to be a low cost solution many wondered if it would really be able to compete with nVidia's GeForce4 MX or ATi's Radeon 7500 GPU's.
SiS likes to use the phrase 8x8 design and what this means is that basically the Xabre 400 supports AGP 8x (AGP 3.0) which doubles the bandwidth available to a videocard from 1.08GB/s to 2.1 GB/s. The upswing from 4x AGP to 8X AGP is pretty astounding, but what does this mean to you?
Well, if your motherboard supports 8x AGP, data will get to the videocard faster, which in theory improves overall 3D performance. Since we don't have any 8x AGP compatible motherboards at the moment we really can't test this aspect of the ECS AG400, but if the performance gain is similar to that of 2x AGP to 4x AGP it won't make a big impact.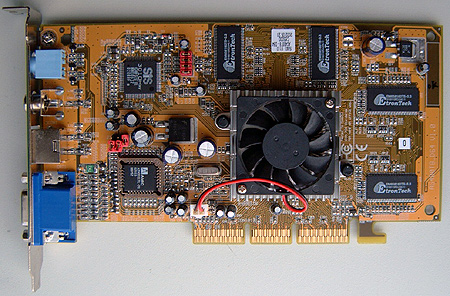 The second 8 (in 8x8) stands for DirectX 8.1 compatibility. This is huge point to consider because the Xabre 400's main competition is still only just DX 7 compatible. Finally, with DirectX 8 games starting to come out this means that Xabre based videocards can start to flex their muscles. It's also good for piece of mind when considering about the future.
ECS's take on the Xabre 400 graphics chipset is the AG400. Based on the SiS Xabre 400, the DX 8.1 compatible 'GPU' runs at 250 MHz and is backed by 64MB DDR RAM that revves along at 500 MHz. For less then $140 CDN ($100 US), the videocard does have a few goodies too. It has TV-Output S-Video (using SiS's own 301D chipset) and composite and a jack for 3D glasses which were not included with the unit we tested.

With the current crop of videocards using larger and larger PCB's, and drawing more power then ever before it was very refreshing to see the relative small size and simplicity of the ECS AG400. Low cost doesn't necessarily mean low quality, and we were extremely pleased to see that ECS used some thermal paste to cool the Xabre 400 GPU rather then using lousy TIM's.