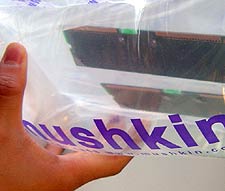 Our feelings about the Kingston PC1066 RDRAM we bought from Mushkin are mixed at best. At the memory's stock speeds, RDRAM is simply a monster and can dish out memory bandwidth and performance that's not rivalled by any other memory system.

When teamed up with a powerful P4 533 MHz based processor and an i850/E based motherboard you're going to have top performance.

With memory prices rising the two sticks of 256MB Mushkin PC1066 RDRAM is a tad pricey at $400 USD, it's about the same price as a low end computer!

RDRAM gets very hot and we're left wondering if it is almost time to start putting a fan on these types of memory modules... In an enclosed case PC1066 would be quite a hot spot and difficult to cool by convection alone.

As far as enthusiasts and overclockers are concerned, our overclocking attempts were good, but not amazing. The PC1066 from Kingston wouldn't go past 136 MHz while maintaining its maximum RDRAM frequency. Still, if you want the fastest memory currently available in 16-bit flavor as far as RDRAM is concerned, Kingston's PC1066 is a really good option to consider... just be weary of that high price!

Related Articles:

Here are a few other articles that you might enjoy as well...

2.