Kingston PC1066 RDRAM Memory Review
---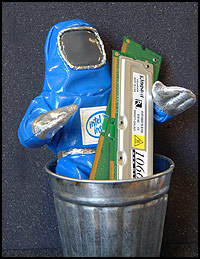 For users who want absolute top performance, there really are just a few memory options to choose from. Currently, the Intel Pentium 4 processor is the undisputed king of performance and the only thing that can keep a 533 MHz FSB P4 happy is PC1066 RDRAM.
These RIMM's are so popular right now that Kingston themselves didn't have any to spare. We turned to Mushkin, an online memory reseller, and for about $400 USD we received two 256MB sticks of PC1066 RDRAM a few days later.
As usual, Mushkin shipped out the memory in their nifty "air bubble" packing. This is a pretty ingenious method of safeguarding memory from the likes of overzealous FedEX drivers. After deflating the Mushkin bubble we found our two sticks of Kingston ValueRam safe and sound, and ready to go.
Mushkin doesn't manufacturer their own memory, so they simply stuck a sticker on the 256MB PC1066 modules of Kingston ValueRam. The code on the side of the RIMM says KVR1066x16-8/256 and the "1066x16" bit means that this memory is rated to run at up to PC1066 standards and that the memory is 16 bits wide.
The "-8" means that the RIMM uses 8 DRAM modules, and the "256" represents the module size. The little yellow diagram is actually telling the truth, the Kingston PC1066 reached about 40-50C during the testing. While I'm not sure if adding a fan is really going to bring the temperature down into a more stable region, it did offer a bit of piece of mind - so we did just that and it helped keep the memory in more acceptable temperatures.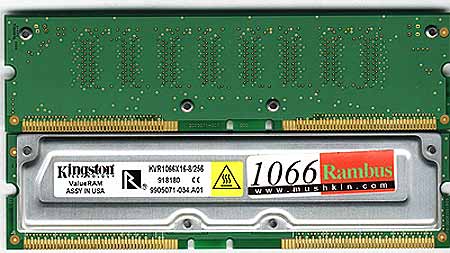 Since the Iwill P4R533-N test sample was not a high overclocker we turned to an oldy but goodie, the Abit TH7II-RAID. Based on the original i850 chipset this board was able to run at 133 MHz FSB with no problems when it was introduced about a year ago!
It seems like it's still hard to make overclockable RDRAM since our Mushkin/Kingston PC1066 RDRAM shoot very high under the 400 MHz RDRAM mode. The memory maxed out at 136 MHz FSB and would give us C1 erros on the Port80 if we pushed it any higher.
With the memory set to 300 MHz mode we were able to get the FSB up all the way up to 159 MHz before the northbridge started overheating. We're sure that the memory would go higher if the motherboard had not maxed out. We'll be changing the northbridge heatsink soon and hopefully it will help us overclock even higher!