Considering that the test system draws a lot of power, I'd say the Vantec ION VAN-400B handled the load satisfactorily. While the 12V rail did dip to 11.82V, this is within fluctuation specs. Serious dips in power could the route cause of spontaneous reboots your PC, but differences of +/- 5% are typically expected, and should not cause that type of problem.

PCStats Test System Specs:
processor:
intel pentium 4 3.0ghz (800mhz)
clock speed:
15 x 200 mhz = 3.0 ghz
motherboards:

gigabyte ga-8knxp i875p

videocard:

ati radeon 9800 pro, catalyst 3.7

memory:

2x 256mb corsair xms3500 cas2

hard drive:
40gb western digital special ed.
cdrom:
nec 52x cd-rom
powersupply:
vantec 400w ion psu
heatsink:
avc sunflower
software setup
windowsxp build 2600
intel inf 5.00.1012
*all voltages were read from the motherboard bios.
Listed Voltages
AMP
Lower Voltage
Upper Voltage
Jitter
+3.3V
26A
3.29v
3.33v
0.04v
+5.0V
40A
4.96v
5.01v
0.05v
+12V
16A
11.82v
11.99v
0.17v
-12V
1.0A
11.98v
12.00v
0.02v
-5.0V
0.8A
4.99v
5.01v
0.02v
+5.0Vsb
2.5A
4.99v
5.00v
0.01v
Whenever someone talks to me about computer problems, one of the first things that I do is ask about the power supply they're using.
Those who know me say I have a vendetta against cheap power supplies, but I don't see how anyone wouldn't be after seeing all the dead systems they have passed my way over time.
Power supplies are probably one of the most important pieces of the computer, yet most people don't give them much thought.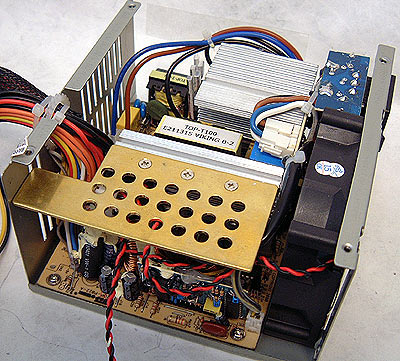 There's a saying "prevention is better than a cure." I'd say that applies extremely well when talking about computer power supplies. Vantec impressed us last year with their Stealth power supply, and with a retail price of just $80 CDN ($59 US) for the new Vantec ION, there should be no excuse for anyone to pick up a generic power supply. You may save $20 by doing so, only to spend another $800 later on to replace all the hardware that could be fried when and if a poor quality power supply blows badly.

The ION VAN-400B performed well in our system stress test, and while the 12V rail did dip down to 11.82V, the change was within fluctuation specs. With its long cables, ten molex connectors, two floppy drive power connectors, and two molex to Serial ATA power connectors, the 400W Vantec ION is power supply should be able to satisfy the needs of every user. Team that up with its economical price and the choice is an easy one.

Find out about this and many other reviews by joining the Weekly PCstats.com Newsletter today!

Related Articles:

Here are a few other articles that you might enjoy as well...

1. PC Power & Cooling Turbo-Cool 510-PFC Power Supply


2. Vantec 470W Stealth Powersupply Review
3. Antec TruePower 430W Power Supply Review