Crucial Radeon 8500LE Videocard Review
---
Crucial is not a name you would normally associate with videocards, but they are trying their hand in the market and if all goes well we could be seeing some very cool stuff from them... after all, they control what kind of micron memory goes on the cards! Crucial have teamed up with ATI and Sapphire Tech to produce the Crucial Radeon 8500LE 128MB. With the 8500LE Crucial are squarely targeting mainstream consumers looking for a no-nonsense & economical videocard to extend the life of existing computer systems. In that sense, the priorities of the consumer invariably turn to problem free installation, and knowledge that service and support from the company are there should anything go wrong.
The Crucial Radeon 8500LE comes with a lifetime warranty, and speaking from personal experience, they've always shown that they're a first class business that does look after its customers.
The Crucial Radeon 8500LE 128MB has one analog video port, a DVI port for LCD displays and a TV-Out jack. The card follows the ATI Radeon 8500 reference design almost to a "T" but instead of using BGA memory, the Crucial Radeon 8500LE uses 6ns Micron DRAM based on the TSOP-II form factor. The card runs for approximately $135USD through the Crucial website.
Upon closer inspection of the Crucial Radeon 8500LE we noticed that it was of course using Micron memory, and 6ns Micron memory at that. With the DDR memory clocked at just 166MHz (DDR 333MHz) instead of the more common 250MHz (DDR 500MHz) we know already where the performance curve is going to sit.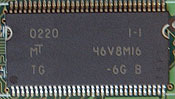 Even though the Radeon 8500LE is a very power and efficient GPU, with 333 MHz memory backing it up, the performance of the videocard in intensive 3D applications may be slightly handicapped to other more performance user oriented Radeon 8500's.
We asked Crucial about this and they said that with their first video card they are trying to satisfy the needs of the mainstream user fully first. Their goal is not to produce the most expensive and most "cutting edge" card on the market, but rather to offer one with good performance for upgrade type situations, and at a very low price point.
If you're interested in learning more about the Radeon 8500 technology please read our preview or our ATI Radeon 8500 64MB review.