Conclusion:
Wow, that's simply amazing! The TwinMOS 256MB PC2700 DDR is easily the fastest memory we've ever tested! 219 MHz FSB with the most aggressive memory timings and 231 MHz with the most conservative timings is awesome. I had some pretty high expectations, but this memory surpassed them all.
Unfortunately I don't know of any online retailer who sells the memory and it can't be found on PriceWatch, so I'm not sure how much the memory will be. If you know of any place that sells this memory, please let me know, I'm sure others would be interested as well.
Perhaps TwinMOS should consider using heatspreaders on their memory because when running at a 219 MHz FSB, the DRAM did get very warm. I highly doubt they'd give any performance boost, but they'd do wonders for peace of mind.
I said this before and I'll say it again, this memory is amazing! If you're an enthusiasts/overclocker the 256MB TwinMOS PC2700 DDR RAM will not disappoint you! Get it if you can!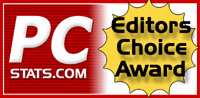 Related Articles:
Here are a few other articles that you might enjoy as well...