TwinMOS PC3200 DDR400 RAM Review
---
Am I suffering from deja vu or didn't I just write an article about this memory? Hehe, no - TwinMOS was also kind enough to send a stick of 512MB PC3200 DDR400 memory for review as well. After playing with the TwinMOS's 256MB PC2700 module, we had some very high hopes for the 512MB module. After all, it's supposed to be PC3200 compatible right from the start!
As software continues to require more and more system resources, having just 256MB worth of memory isn't always enough for a Win200/XP based system. If you are running Windows2000 or WindowsXP and only have 256MB worth of RAM, pop in another 256MB stick ASAP! You'll really notice the performance difference and your computer will thank you!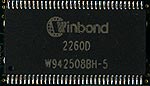 Anyway going back to the memory, the TwinMOS 512MB PC3200 memory uses Winbond DRAM which has a "5"ns speed rating. As you probably read in our TwinMOS PC2700 DDR RAM review Winbond is making some awesome memory. Specifically, overclockers have been having a lot of success overclocking the Winbond "BH-6" DRAM modules. Well the 512MB PC3200 memory was using "BH-5" DRAM so I was getting pretty excited in terms of overclockability.
Would this stick of memory be able to impress us as much as the 256MB TwinMOS PC2700 DDR did? Those are pretty big steps to fill.


Overclocking:
To test the TwinMOS PC3200 I simply booted the memory at 166 MHz just to make sure everything was alright first. To no surprise the memory worked flawlessly. Next speed on the list was 200 MHz FSB (yes I know it's a big jump). There we had our first problem.
The system just sat at the POST screen doing nothing. Upping the voltage to 2.9V solved all the stability problems at 200 MHz but it just wouldn't budge 1 MHz above that mark.
Using the most conservative memory timings allowed us to run the memory at 200 MHz FSB but with default voltage.Not the best overclocking module, but hey overclocking is luck of the draw right? 200 MHz isn't anything to be ashamed of either!