Abstract: The FCC licences 5.25 - 5.35 / 5.65-5.85GHz to high power radar systems which is about the only thing left to possibly cause interference from what we can tell.


82% Rating:

Home > Reviews > Networking > Actiontec HWS05490-1
The PCMCIA Cards
actiontec -pcmcia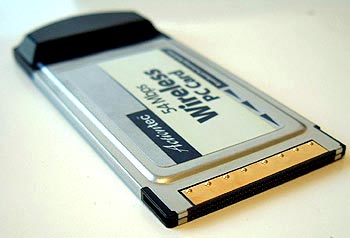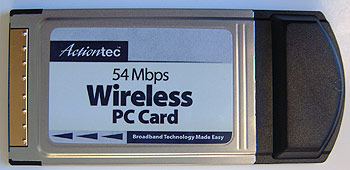 Hardware Installation:
The PCI card installs just as another card does into a free expansion slot. The drivers can be loaded up from the CD which Actiontec include with the package in a mater of moments. Configuring the wireless adaptors properties in WindowsXP is accomplished via standard windows menus and while they are not as nice to deal with as a custom piece of software they keep the cards lean and relatively trouble free.
Curiously, we had some rather tough problems reconnecting to the WAP after encryption was apparently engaged, and nothing in the documentation or on Actiontec's website was able to solve the issue. In the case of this equipment I'd be apt to side with a more simple ad-hoc setup than the WAP-AP which is troublesome to configure because of its reliance on a browser interface.
In any event, we eventually triumphed over the settings issue and were able to run NetIQ's Qcheck utility to test out the connection along with a few time file transfer tests.
The average throughput of each system from router to PCMCIA card was checked using NetIQ's QCheck utility. A simple 11.8MB data transfer test was also conducted to measure approximate data-transfer times. Each test was conducted three times and the average results recorded.
When using QCheck to test the throughput we isolated the endpoint computer from the rest of the network by connecting it to the WAP router directly. If the computer is connected to the internal network, the results would tend to be augmented by the other background traffic. All Qcheck tests were conducted with a Data size of "1000bytes".
Wireless Network Setups
Actiontec 802.11a
SMC 802.1b
Average Throughput
27-41Mbps
4.899 Mbps
Response Time
2-6ms
5ms
11.8Mb Test file transfer
5sec
13sec
WEP Average Throughput
20.253 Mbps
2.550 Mbps
WEP Response Time
4-7ms
6ms
WEP 11.8Mb Test file transfer
9 sec
19sec
10/100 Wired Ethernet

61.5 Mbps

Wired Response Time

1ms
Moving from the 11Mbps speed of 802.11b to the 54Mbps speed of 802.11a brings about a very nice boost in both throughput and data transfer tests. Comparing the Actiontec 802.11a equipment up to some reference SMC 802.11b gear we can see that the gains are fairly significant. Also worth noting is that the average throughput for our 802.11a tests varied from one moment to the next over a larger range than the 802.11b equipment would.
For this reason, the listed range is 27-41Mbps and not just simply 34Mbps. The actual upper limits in some cases met 50Mbps, and dipped as low as about 24Mbps, but for the most part the signal supported the 27-41Mpbs throughput.
Data transfer times for the 11.8MB test file came in at a speedy 9 seconds compared to the 19 seconds of the SMC equipment, and average of about 25-30 seconds for some other manufacturers we looked at in a 802.11b round up recently.
With a retail price for the access point of about $220 USD (check CDW.com) and $115USD for the PCMCIA cards the equipment is more expensive than standard 802.11b, but then again you do get a better transfer rate over shorter distances. 802.11a does not have the same range as 802.11b, and the Actiontec equipment is only rated for about 100 feet indoors. Given the size of most consumer houses though, this is more than adequate for good coverage assuming a fairly open layout is available. Doors, walls, and other metal objects, or even people can degrade signal strength and effect transmission rates.
Overall, the Actiontec 802.11a equipment is a nice upgrade from the current crop of 802.11b gear, and with WEP encryption does offer a similar and better levels of security (40-bit WEP, 128-bit RC4, 154-bit RC4). Cool technology for smaller wireless spaces where mobility is paramount and range is not as important.