Actiontec 802.11a 54Mbps Wireless Gear Review
---

The Actiontec PCMCIA cards which house the 802.11a components are compatible with 32-bit Type II PC Cardbus slots and will fit in just about any notebook on the market today. Below the black plastic part which pops up to a little over twice the height of the rest of the card sits an Atheros AR5000 WLAN chipset which operates at between 5.15 and 5.35GHz.
That signal range puts the 802.11a way out of the range of interference created by microwaves, cellular & cordless phones, Bluetooth and even good old 802.11b. The FCC licences 5.25 - 5.35 / 5.65-5.85GHz to high power radar systems which is about the only thing left to possibly cause interference from what we can tell.
With 802.11a operating under Wi-Fi5 5GHz OFDM (Orthogonal Frequency Division Multplexing) we as users are free to keep on trucking with our existing 802.11b equipment. As each of the two wireless systems operate on distant frequencies, the equipment is completely uninterruptable.
Quite a few companies have burst onto the 802.11b wireless networking scene, but not nearly as many have introduced solutions for 802.11a thus far. Perhaps the minds behind the marketing are waiting for the Intersil-backed 802.11g standard which promises to bring about even further advancements in wireless networking. The 802.11g standard was only recently ratified by IEEE and what it brings to the tables is backwards compatibility with the existing 802.11b standard while maintaining the speed of 802.11a. The only loop hole is that 802.11g does not bring compatibility (one system operates at 5GHz and the other at 2.4GHz so they are technically isolated).
actiontec - wap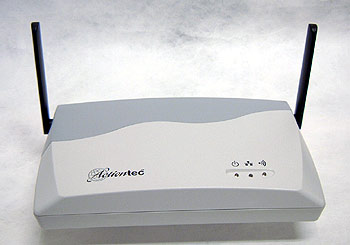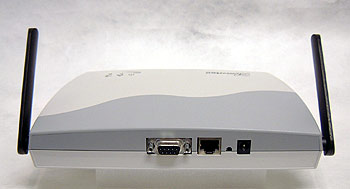 The little antennas on the unit rotate in just one axis, and instead of semi-flexible rubber, they are constructed from hard plastic. There is a good chance they could get broken if the unit falls from its perch to is a good idea to wall mount it, or place in on a firm surface. Like other Actiontec WAP's we have looked at which operate on the 802.11b standard, the 802.11a HWS05490-1 Wireless access point has mounting points on the base so it can be hung on a wall, or side of a desk for example.
Hardware Installation:
With the 54Mbps Wireless Access Point connected to the network via an Ethernet cable, and our test system prepped with a fresh 54Mbps wireless PCMCIA card we set about the installation procedures to get the wascully wabbit WAP working wight!
Incidentally, the serial port on the rear of the unit is for a dial up modem connection, and not for configuring the units settings.
Software Installation & Initial Setup:
Installation software for wireless access points seems to be in one of two groups - incredibly complicated and unwieldy, or just plain straightforward and easy to follow. Actiontec have something they call the "Installation Buddy" which seems more like a pet name for a Teddy Ruxpin than a series of step by step illustrated menus.
The guide is broken down into simple steps which illustrate that the 54Mbps wireless access point is intended for home, or novice users rather than battle hardened IT staff. But realistically, whoever gets the job of installing this kit has it pretty easy and we like that a lot. It can get really frustrating when you are installing a access point over the course of a few hours because setting mysteriously stop working. We experienced none of those problems with the Actiontec unit thankfully.
| | |
| --- | --- |
| IP Address: | 192.168.0.1 |
| Subnet Mask: | 255.255.255.0 |
| Default Gateway: | n/a |
The menu system is browser based which has proven problematic in past experiences with other manufacturers, but Actiontec seem to have it working robustly since it can work off a direct PC-to-WAP connection via a crossover cable. To access the administrative configuration screen from our test system we merely had to type in 192.168.0.250 and log in with the default settings.
Default Network Settings
Updated Network Settings
(only examples)
WAN IP Address:
192.168.0.250
192.168.0.250
Password:
Admin/none
Admin/mypas
SSID:
ACTIONTEC_11A
testACTa
WEP Encryption:
disabled
64-bit enabled
keys:
n/a
not used
Channel:
52, 5.26GHz
MAC Filters:
none
n/a