Albatron GeForce4 Ti4200P-Turbo 128MB Review
---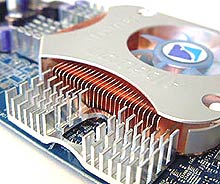 Even though the GeForce4 Ti line of videocards are no longer the fastest on the market, the GeForce4 Ti4200 is still easily the best value GPU around. With so much competition, manufacturers are finding it increasingly difficult to differentiate themselves from their rivals. Albatron is trying to lure customers by running a GeForce4 Ti4200 faster than their competition (at default),and this increase can potentially place the Ti4200P-Turbo at Ti4600 levels.
So what's so unique about the Albatron GeForce4 Ti4200P Turbo itself?
To start things off, the Albatron GF4 Ti4200P Turbo uses the same 8-layer PCB design as GeForce4 Ti4400/Ti4600 videocards. It has a very impressive and well designed GPU heatsink (which we'll get into later), some flashy memory sinks, TV-Output (using the Phillips 7104E) and finally a DVI output.
It seems that Albatron has taken a liking to the blue PCB's, and I for one say they look pretty awesome! The Albatron GeForce4 Ti4200P-Turbo is a tad pricer then the average Ti4200 at $240 CDN ($170 US) but that's to be expected. After all, the 8-layer PCB is more expensive to produce and it also uses higher quality 3.3ns BGA DDR RAM of which there is 128MB in this version.
If looks could kill, the Albatron GeForce4 Ti4200 Turbo would be on FBI's 10 most wanted list!
Ok, maybe that's being a bit extreme. After all it's only a videocard but it sure is one good looking card. It seems that peripheral style is playing a very large role in consumers decisions these days so it is a logical step for manufacturers to jump on.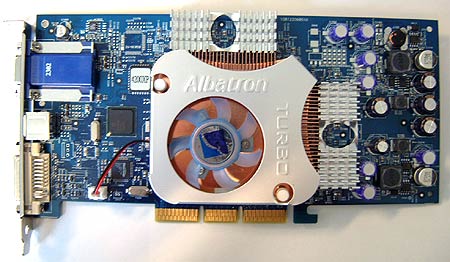 I'd still like to see more manufacturers out there go with the dual DVI approach like Gainward has done. Since the GeForce4 line of videocards support dual monitors, dual DVI would be the only way to give the user full dual display options. And lastly, just as a note to those of you who carry around systems to LAN party after LAN party, since the GPU cooler is made mainly of copper the card is about twice as heavy as a regular videocard.
Full Copper Cooling Solution
The GeForce4 GPU is built on the 0.15 micron manufacturing process and running at high speeds can generate quite a bit of heat. In a step to set their product apart, and improve the cooling factor, Albatron have put together a custom copper GPU heatsink that is pretty impressive.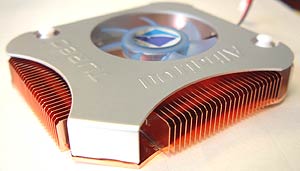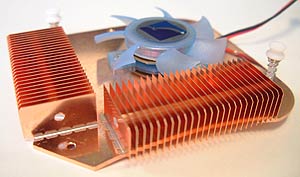 As you can imagine this copper GPU cooler does a good job at cooling the core. If you put your finger on the copper fins while the card is in use you can feel that they're quite warm. Something we were also pleasantly surprising with was the quietness of the cooling solution. Compared to the standard GF4 heatsink, this one is by far less noisy.
The card also comes with small aluminum heatsinks on the BGA memory. It is hard to say if these heatsinks are really all that necessary as we know most Ti4600's out there don't come with memory heatsinks install. Additionally, if you check out the tests Anandtech conducted, memory heatsinks are pretty much only for show. Overclocking the Geforce 4 for performance gains is certainly not for show, and that is what we look at next!
Overclocking the Albatron GF4Ti4200P-Turbo
So Albatron claims that the Ti4200P Turbo can hit Ti4600 speeds... A very bold claim but was this Ti4200 willing?
I started to test the core first knowing that it's based on the A3 stepping, I had some pretty high hopes.
By default the core speed was clocked at 250 MHz (Ti4200 Defaults) and I immediately upped it to 300 MHz (don't overclock like me, be patient and go slowly!) and the Albatron Ti4200P Turbo handled that change with ease. Feeling bold, I again upped the core speed, to 310 MHz this time. While 3DMark would run okay, the card would lock up while running the Flyby demo in UT2003. After a bit of top secret tinkering, the core would pass every test at 309 MHz.
I had high hopes for the A3 stepping core, but I had even higher hopes for the memory! With the (sacred) 3.3ns DRAM memory clocked at 553 MHz by default, a speed already 105 MHz higher then the average 128MB Ti4200, there was a lot hoping going on at the test bench!
Knowing the memory would do 606 MHz (1000 / 3.3 x 2 = 606 for a more detailed explanation on how the formula works, please read this) and Albatron's claim of Ti4600 performance, I upped the memory speed to 650 MHz.
No problems here, it would go all the way up to 693 MHz before artifacts were detected using artifact tester and it would do up to 709 MHz before visual artifacts were present. In the end we settled for a concervative 3 09MHz/693MHz - not bad for a budget videocard!