Most of Viewsonic's LCD displays follow a similar design scheme and I think it works well. The display looks nice, and while I've never been a fan of placing the manufacturers name right dead center, the shiny viewsonic nameplate doesn't stick out too much.
The control panel and speakers make up the black area, and that is pretty much it. Round back we are treated with a Kensington lock to help ensure the stylish VG700 doesn't end up walking away from the desk. We're glad to see that Viewsonic included this staple of theft prevention.
Rotating 90 Degrees
The VG700 draws power from a standard AC-adaptor power brick which connects to the display via a DC power cable. Along with the power, video and audio cable Viewsonic have built in an nice cable control pathway in the stand.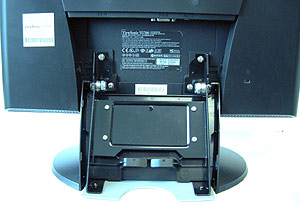 Two plastic panels pop out, and the cables feed from the display out through the stand, keeping a desk top nice and clean, and almost completely free from cables. The stand is attached to the display on 100mm VESA mounting points. If you have the right hardware, you can remove the display stand, and mount the Viewsonic VG700 to an armature, or wall. That kind of zero-footprint flexibility gives LCD displays a big advantage over their boxy CRT counterparts.
A little tilt backwards gives the display some flexibility for taller folks, but there is no forward tilting. The stand is pretty stable, and like most LCD's out there, doesn't come with any kind of vertical height adjustment. Since weight really isn't an issue with this unit, Viewsonic have opted to not include any kind of left-right swivel.