Abstract: LCD's don't suffer from the same parameters that can cause that kind of eyestrain, they draw a substantially lower amount of power, and they take up just a few inches of desk space.
84% Rating:
Home > Reviews > Monitors > Viewsonic VG700
LCD Display Evaluation Notes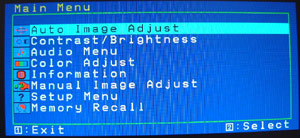 OSD and Display Evaluation Notes
Viewsonic have a nicely laid out OSD, but as we mentioned before the oddly labeled keys can make navigation a bit tricky.
The following controls are available on the menus; Auto adjust, brightness, contrast, audio menu, colour adjust, information, manual image adjust, setup, and memory recall.
As with all analog-input LCD displays, the best way to configure them is to simply toggle the Auto adjust and sit back as the display goes through a series of alignment and other visual adjustments.
PCstats TFT Display Evaluation Criteria:

We evaluate the quality of TFT displays with the help of a program called Nokia Monitor Test. The software application displays a range of colours and test patterns that can help diagnose just about any visual problems or defects a TFT display may contain.

It can also be a very useful tool for properly adjusting a display to the optimal settings. The software consists of eleven tests which can be run in steps as adjustments are made to the OSD. As the tests are run we look for the following problems, only one of which should be inoperable (broken pixel).

Broken Pixels: What we class as a 'broken pixel' can fall under any one of the following circumstances: Pixel always on (any colour), pixel always off, pixel unable to display a shade (red, green, blue, black, white), pixel shown colour gradient.
Pixel Clock: If the number of dot clocks within one horizontal synch are not properly configured the screen will appear to drift or vertical stripes may be generated. This should be correctable by the on screen menu.
Phase: If the phase of the display data and dot clock are not correctly tuned the screen can flicker, or text be displayed blurry. For example text may appear dithered, or when looking at a test pattern of a one-pixel black, one-pixel white checkerboard pattern the pattern may be distorted. This should be correctable by the on screen menu.
Response Time: We look for any streaking associated with moving a full page of text up or down quickly. Displays with slower refresh rates tend to show some degree of image streaking or text discoloration which can be distracting.
Stand Stability:
TFT displays are fragile components and the stand should offer adequately stable support as well as be easily adjustable.

We deduct marks for quality control if there are any predominant broken pixels in a display. While many manufacturers may consider a few broken pixels acceptable, we believe the high cost of TFT displays should translate into a clear and unblemished image.

Display Test System Configuration:
Video Card:
ATI Radeon 8500
Operating System:
MS Windows XP
Display Settings:
Color Temp: 6500 Kelvin
Resolution: 1280x1024 pixels
Frequency: 60Hz
Colour: 32 Bit
LCD Display Test
Test Notes and Observations
Geometry:

LCD's inherent design means that test grids are displayed very true and very sharp at their native resolutions. The Viewsonic VG700 was tested with a grid pattern and to measure the representation (it should be composed of true squares) we broke out the old ruler. The grid squares measured 11.5mm x 10.5mm at 1280x1024 which is just about right on.

Brightness and Contrast:

Good shading on the grey scale. The white scale was equally nice, though we did pump up the brightness to 100%.

Colour:

The white, red, green and blue test screens were bright and consistent over the entire screen area. There was one dull pixel off to the right hand side of the display where it wasn't very noticeable.

Convergence:

The grid test patterns in RGB illustrate the worst case situations when different coloured pixels must work closely together, and since they comprise different parts of a pixel they do not line up exactly. CRT displays tend to produce better results under this test as there is more of a blending effect seen by then naked eye.

Focus:

This test has a few patterns of alternating black and white boxes with text in them. In the center of the page are two boxes with 1 pixel vertical stripes. These two boxes showed some issues with waviness, and some shadowing from the adjacent text lines. All other patterns in this test showed up perfectly however.

Resolution:

Resolution was excellent at the native 1280x1024 resolution.

Moire:

On the one-pixel vertical line test there was some background noise (waviness) visible as was also the case in the one/two-pixel square test screen.

Other Evaluation Notes:

Overall there were a few issues with this display and 1-pixel vertical lines. The display was auto adjusted prior to testing with a full text page in the background for optimal adjustments. Hitting auto adjust on the screens which had the background noise would resolve the issue, but then other test patterns would have minor issues (like text being not quite sharp).
SEARCH PCSTATS

---

Use the power of Google to search all of PCSTATS and the PCSTATS Forums. Tell us what you think of this new feature - FEEDBACK?