Iwill P4ES i845E Motherboard Review
---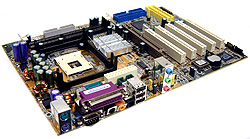 Like the Iwill P4GS we reviewed earlier, the Iwill P4ES is another value oriented motherboard from Iwill which boasts a long list of on board features. This time around however, we are looking at a motherboard based on the Intel i845E chipset, so there is no integrated video.
With a slowing computer economy, Iwill are really talking to the average user market with this motherboard - the sheer abundance of on board features is a testament to that.
So how exactly is Iwill planning to lure potential consumers to their motherboards? Simple, Iwill is adding a ton of features into their boards. The P4ES has IDE RAID, Serial ATA, 5.1 audio and support for various portable media (compact flash, secure digital cards and memory stick) and to top things off, USB 2.0 is natively supported by the ICH4 southbridge.
There are five PCI slots should you need to add any devices, and two DIMM slots that support 2 GB of PC1600/2100 and PC2700 (unofficially).
With all these devices, this board looks like it is going to offer stiff competition to adjacent motherboards on the shelves.
iwill p4es motherboard

Ships with the following:

2x IDE ATA100 Cable
FDD Cable
Driver CD
IO Backplate
Users Manual

Brackets:

n/a
The P4ES is a very compact motherboard, but it doesn't share the same odd layout as the P4GS. As you can see, there is absolutely no space to spare on this PCB.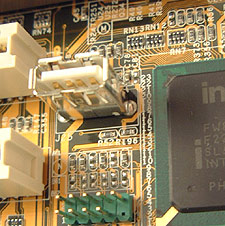 In typical Iwill fashion, the motherboard is very detailed and well labeled. You probably won't have to refer to the manual when setting up the jumpers, or the front panel connectors. That may seem like a small thing, but when you have reviewed dozens and dozens of motherboards, little features like this make setup a breeze - and that is something any consumer can agree with.
I must say that we were a little bit surprised to see IWill hasn't yet adopted a colour scheme for their motherboard PCB's. With so many manufacturers adopting red, green, black, purple and even silver, Iwill steadfastly stands by brown.
This goes for value oriented mainboards like the P4Es, and every other motherboard we've ever tested from them.
There were some back-room discussions last year at Comdex about the different PCB colours popping up, and where the future would be. While this doesn't relate to Iwill specifically, the possibility of a translucent PCB was not totally out of the question according to some mainboard manufacturers. Whether or not this turned out to be a feasible PCB finish remains unknown, but I know there are many people who would really be very happy if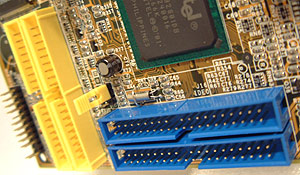 such a board took shape. Personally, we've always been just a little more preoccupied with the performance of the board over how it looks, but a little eye-candy never did any harm either.
With high bandwidth USB devices gaining popularity Iwill has taken the liberty of adding an internal USB port which is a pretty unique addition, and a good place to stick a Bluetooth module I might think.
Iwill certainly packed a lot of features into this little motherboard, but with so many features, we're bound to have a few problems.
Well it's not really a problem, but with the IDE connectors in the lower right hand corner, it rules out the possibility of using longer (SB Audigy) or full length PCI cards. The Serial ATA connectors aren't in a very good location in the lower left hand corner of the motherboard either. Thankfully the Serial ATA cables are thin and shouldn't have problems reaching drives.